Review – Alaskan Summer Ale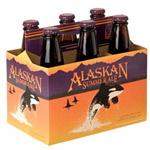 From Alaskan Brewing – Brewed in our original brewhouse in 1997, this beer is part of our Rough Draft series and has met success with each limited edition release. The enthusiastic reception led the Brew Crew to bring it to the West Coast as a summer seasonal.
Alaskan Brewing – Alaskan Summer Ale – 12 oz. bottle poured into a pint glass. 5.3% abv.
Appearance:  Pours a bright yellow gold with a small collection of white foam at the top.
Aroma: Grainy malt at first, then some sweetness and orange zest, and earthiness.
Taste: Dry ,bready malt in the beginning. Ends with crisp bitter hops. There are hints of citrus in the taste as well as the nose.
Mouthfeel: Full bodied, and not overdone with carbonation.
Overall: A classy, well made summer session beer.