Reunion '10 – A Beer For Hope Belgian Style Scotch Ale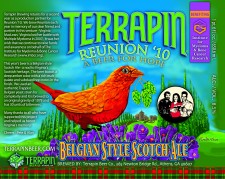 REUNION '10— Belgian-Style Scotch Ale. Terrapin Beer Co. and Taco Mac are once again participating in the Reunion: A Beer for Hope fund-raising campaign. The Campaign raises funds to support The Institute for Myeloma & Bone Cancer Research in the name of Virginia MacLean who succumbed to the disease in 2007.
This year's beer is a Belgian-Style Scotch Ale – a nod to Virginia's Scottish heritage. The beer boasts a deep amber color with a rich malt palate and subdued hop notes in the finish. We used an authentic Belgian yeast strain for complexity. The beer will be available in 22oz bottles and will be features on draft at Taco Mac restaurants in Georgia later this summer.
Terrapin Beer Co. – Reunion '10 – A beer for Hope Belgian Style Scotch Ale – 22 oz. bottle poured into a goblet. 8.5% abv. Also done by Bison Brewing as well.
Appearance: Pours a coca cola brown with sparse, tight bubbles for head.
Aroma: Burnt sugars, belgian candi sugar, perfume and bubble gum.
Taste: Burnt sugar, burnt toast, spicy hops and dark fruit.
Mouthfeel: Coating, lightly fizzy.
Overall: Very doppel-bockish, fairly sweet, and very drinkable.