Boulevard Pale Ale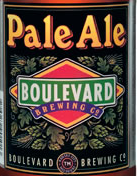 From Boulevard – Boulevard Pale Ale is a smooth, fruity, well-balanced beer with year-round appeal. A variety of caramel malts impart a rich flavor and amber color, while liberal use of whole hops adds zest and aroma. Pale Ale is the first beer we brewed, and continues to be a perennial favorite.
Boulevard Brewing – Boulevard Pale Ale – 12 oz. bottle poured into a pint glass. 5.4% abv. From online trade.
Appearance: Pours a bright clear amber with a small film of head.
Aroma: Very faint husky malt and a bit of a sourish twang.
Taste: A floral/herbal hop presence and more husky grain notes.
Mouthfeel: Medium bodied medium carbonation.
Overall: A real boring beer. Sorry.