New Glarus Totally Naked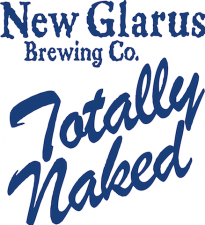 From New Glarus – Pure and crisp this is a beer with nothing to hide. Wisconsin two-row barley malt ensures a mellow and smooth body. We imported Noble Hop varieties from Germany and the Czech Republic to ensure a fine mature aroma with no coarse bitterness.  Expect this beer to pour a delicate golden hue that sparkles in the summer sun. This lager is brewed using all natural ingredients with no artificial additives of any kind. Kick back, relax and enjoy the simple unadorned flavor. This is beer at its most basic.
New Glarus Brewing – New Glarus Totally Naked – 12 oz. bottle poured into a pint glass. 5% abv.
Appearance: Pours a straw gold. Super clear with visable rising bubbles and a retaining white film for head.
Aroma: Honey wheat bread. Spicy floral Eurohop.
Taste: Spicy eurohop, bready yeast, touch of sweet cereal. Not very bitter.
Mouthfeel:  Medium bodied nice fizzy carbonation
Overall: I probably don't have to tell you this, but here's another spot on, super clean all-malt American lager. I dare anyone to find a flaw in this boy.