Maui La Perouse White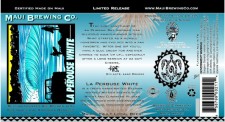 From Maui Brewing – La Perouse White is a fresh handcrafted Belgian inspired witbier brewed with wheat and European Pilsner malts, spiced with coriander and fresh local Mandarin oranges. This beer was named by Kim Lutz, Lead Brewer at the Maui Brewing Co. Kahana brewpub, after La Perouse Bay which is one of the best and most popular snorkeling, diving and surfing spots on Maui. The bay is located south of the town of Wailea and is the site of one of Maui's most recently active volcanos.
Maui Brewing – Maui La Perouse White – 12 oz. can poured into a pint glass. 5.2% abv.
Appearance: Pours a cloudy pastel yellow. Light doesnt get through. After an agressive pour you get a large foamy white head that quickly subsides to a thin white film.
Aroma: Spicy Belgian yeast nose from about a foot away, upon closer review, fresh flowers, passion fruit and citrus.
Taste: Spicy begian yeast, corriandor, light clove, lightly toasted pale malts  orange, finishes spicy.
Mouthfeel: Full bodied with lively carbonation.
Overall: For a style that I usually don't care for, I was fairly impressed with how flavorful and easy to drink this was.