New Belgium Slow Ride Session IPA
From New Belgium Brewing – Kicking back and relaxing with a session beer requires little more than a couch, some free time, and a few pals. Slow Ride Session IPA is up for this easy-going challenge, starting with a pour of sheened gold and plenty of fluffy, white foam. A blend of seven hop varieties, led by exotic Mosaic and Nelson Sauvin, twist together brilliant tropical scents of melon, peach, lime and grapefruit for a vividly fruity aroma. The flavor mirrors the aroma, while balancing a malty-sweet yet clean start and hoppy bitterness in the back. Light bodied and extra quaffable, Slow Ride Session IPA brings the finish line to you.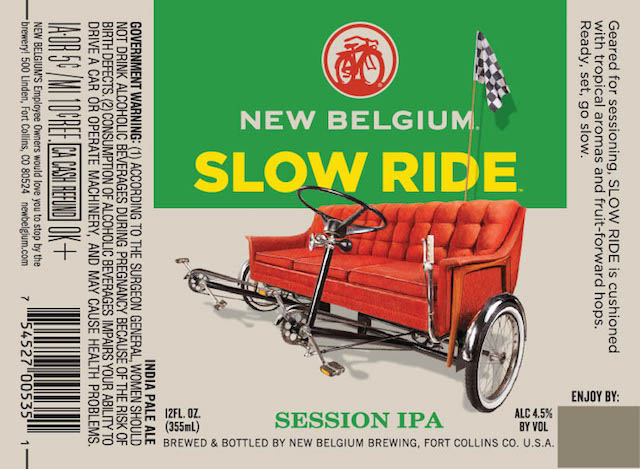 New Belgium Brewing – New Belgium Slow Ride Session IPA – 12 oz. bottle poured into a pint glass. 4.5% abv.
Appearance: Pours yellow gold with a beautiful white pillow of suds atop.
Aroma: Grapefruit, pineapple, freshly cut damp grass stuck under the lawnboy. Fantastic.
Taste: Dry pale malt, mixture of citrus juicy and bitter American hops. To the point/simple.
Mouthfeel:  Dry, light bodied moderate carbonation.
Overall: New Belgium nailed it. I'm thinking they studied what came out last year during the great Session IPA boom, and made something that can hang with the pack. This is a very classy Session IPA that I'd gladly drink again (and again and again).