New Belgium Lips of Faith Pluot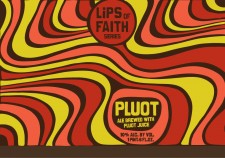 From New Belgium Brewing – Cross pollinate your tastebuds with Belgian imagination and you'll be sipping this ale while visions of pluots dance in your head. Pluots? A hybrid of apricots and plums that impart a subtle sweetness. Ferment that with a wild Belgian yeast strain and you have a fruity yet spicy nature with a body reminiscent of red wine. Delicious.
New Belgium Brewing – New Belgium Lips of Faith Pluot – 22 oz. bottle poured into a goblet. 10% abv.
Appearance:  Pours a still yellow gold no edges.
Aroma:  Kiwi, plum , perfumey yeast.
Taste: Ripe plum, blush wine, low bitterness. A little earthy and spicy.
Mouthfeel: Fizzy,full bodied.
Overall:  Very tasty, fruity without being overly sweet. and the alcohol was very balanced for the size.