New Belgium Juicy Watermelon
Product description: Brewed with watermelon and lime peel, New Belgium Brewing's new seasonal release offers an approachable, fruit-infused ale. Juicy Watermelon Lime Ale is crisp, refreshing and juicy – the perfect option for beating back the summer heat. It has a bright fruity flavor and a thirst-quenching finish. The beer, which is available now through July, is available in 12 oz. bottles and cans, and on draft.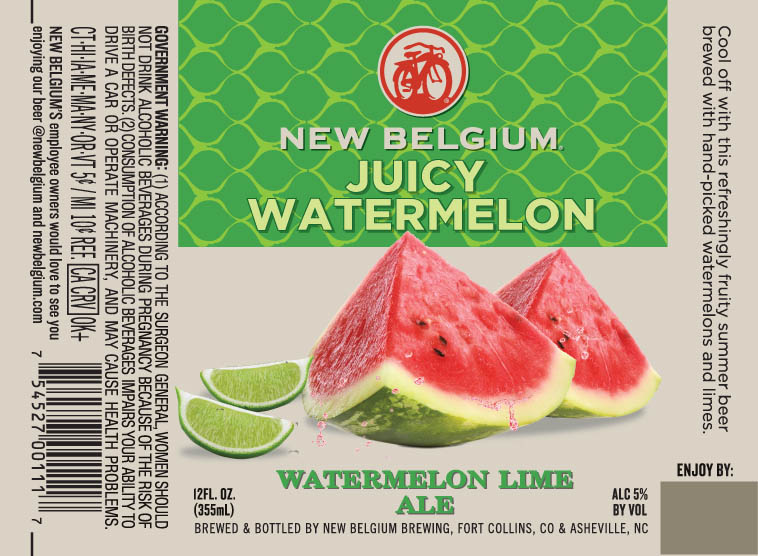 New Belgium Brewing – New Belgium Juicy Watermelon – 12 oz. bottle poured into speciality glassware 5% abv.
Sampling this beer from a 12oz bottle with an enjoy by date of 6/18/2017, NB's Juicy Watermelon yields a clear, light orange pour with a medium, off-white head. Carbonation is average and head retention is fair. I tried this originally in a Teku stemware glass but switched it up to a wide tulip since the aroma was all over the place.
The aroma begins more biscuity and neutral than I expected with fresh bread, lemon detergent, lemon scented soap. The soap character seems volatile and after a few minutes, I'm left with just fresh bread and sweeter lemon gumdrops. I don't pick up any fruit additions. Yeast character is hidden. The more it warms, the more I get a slight creamed corn nose common with pilsner malt. It's not a problem, though.
Flavors start with just a hint of green watermelon rind moving quickly to the base beer, which is a thinner, bready malt-focused blonde ale. The finish is quite lengthy with a touch of honey roll thickness and slight acidity lingering in the back of the palate. The balance here is very nice, though if I were trying this blind, I would never mention the subtle watermelon and I continue to not pick up the lime addition. Just a solid blonde ale.
Overall, I found this beer to be refreshing and very drinkable with good aesthetics from the maltier blonde ale base. However, I bought this hoping to get some summer quenching character from the watermelon and lime additions. I can't pick them up, unfortunately. I think 21st Amendment's Hell or High Watermelon is still the standard for a fun watermelon summer beer.