Modern Times Drop Art
Product description: It's a 6.2% sour saison packed with mango and orange zest. This spectacularly refreshing mouth-party is bursting with tart, tropical, & citrusy flavors and aromas, and is satisfying both in its complexity and exceeding crushability.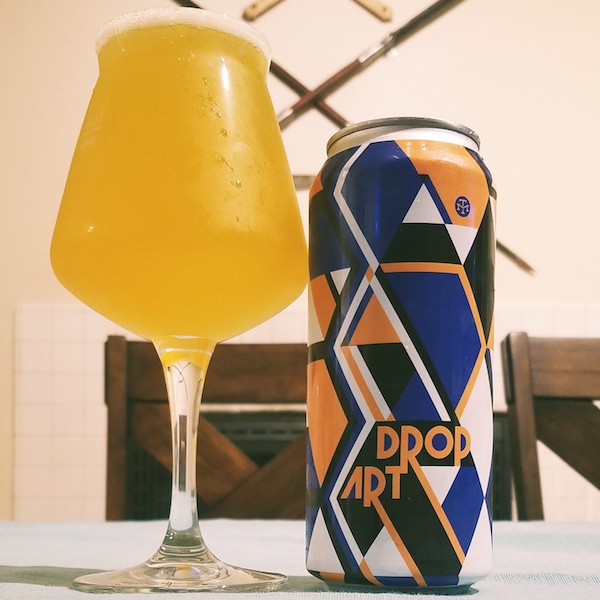 Modern Times Beer – Modern Times Drop Art – 16 oz. can poured into speciality glassware – 6.2% abv.
When Drop Art debuted on tap at Modern Times, it was a fruit-forward, tart saison. Thicker mango and tangerine additions were obvious. But, I didn't think much of this beer at the time. So, I was surprised not only to see this released in cans, but also to find it in retail distribution, despite its eccentric graphic design that signaled, to me at least, that this was intended for brewery-only release.
Now, sampling this from the 16oz cans in distribution, this beer has softened up nicely. Poured into stemware, this is a full haze, glowing pineapple juice color with quickly dissipating meringue foam that gives it a Berliner Weisse appearance. Some yeast sediment dumps out from the bottom of the can. In the aroma, Berliner Weisse themes continue with cream of wheat, lemon/lime yogurt, fresh orange juice, wet sourdough bread, and a salty/sweaty funkiness. Flavor-wise, this one is incredibly drinkable. The acid level is low at more of a traditional Berliner Weisse level focusing on lactic acid while Key lime pie yogurt and cream of wheat flavors dominate.
The palate here is superb – fluffy and quenching. The lactic acid/yogurt character piles on with the mango and tangerine additions nicely integrated. I had forgotten they were part of the beer until I read the fine print on the can. Similarly, the 6.2% ABV goes completely unnoticed. If anything, this a beer that demands to be consumed swiftly like Gatorade.
I think this could pass for saison, Berliner Weisse, or even Belgian witbier. There is a wheat component to the grist, I believe, from the flavors here, and the acid level is present but low enough for any of these styles. With the citrus zest and wheat combination, witbier continues to come to mind. Drop Art takes the best of these three styles and melds them into one masterpiece. This is the ultimate summer beer.