Kuhnhenn Fourth D Olde Ale (4D)
From Kuhnhenn Brewing – This deep Burgundy-colored ale has won countless awards in competitions all over the world. The intense, sweet caramel malty flavor and aroma develop into rich toffee and toasted marshmallow notes. As the beer warms, a light sherry note becomes apparent, along with a hint of heat from the high alcohol content. Despite the high ABV, this beer is brilliantly balanced and begs for another sip.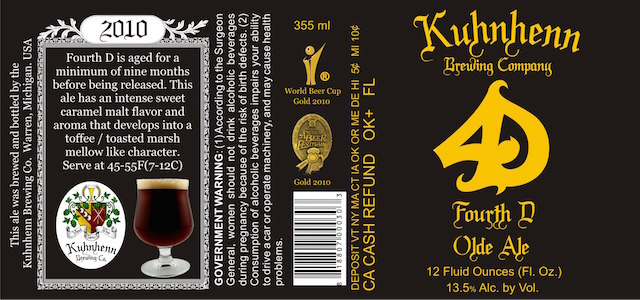 Kuhnhenn Brewing – Kuhnhenn Fourth D (4D) Olde Ale Vintage 2011 – 12 oz. bottle poured into a goblet. 13.5% abv. 
Appearance:  Pours a reddish brown with no head and very faint swirls looking down.
Aroma: Brown sugar, dried dates covered in powdered sugar. Cinnamon raisin bread.
Taste: Burnt brown sugar, faint bitterness, dark fruit, lemon iced tea.
Mouthfeel:  Full bodied low carbonation.
Overall: Pretty awesome, seemingly very cellarable, and had enough bitterness to balance out the gigantic malt bill.