Ken Schmidt / Maui Brewing / Stone Kona Coffee Macadamia Nut Coconut Porter Aged in Bourbon Barrels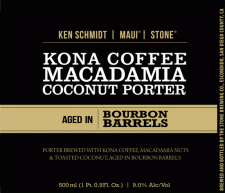 From Stone – We're only expecting there to be about 500 bottles. As such, we had to think long and hard about the best way to release this magic liquid into the wild, examining a variety of strategies and trying to learn from the experiences of others before deciding on a method[link]
Stone Brewing Co. – Ken Schmidt / Maui Brewing / Stone Kona Coffee Macadamia Nut Coconut Porter Aged in Bourbon Barrels – 500 ml. bottle poured into a goblet. 9% abv. Bought on eBay for 800 niz-otes.
Appearance:  Pours a dark brown with a rapidly subsided tan  head. Looks like motor oil.
Aroma: First and foremost,coffee, vanilla, toasted nuts,roast. Very faint bourbon.
Taste: A concentrated amount Kona coffee, toasted coconut, roasted malt, pronouned  barrel but faint bourbon/booze.
Mouthfeel: Silky, medium bodied.
Overall:  The perfect beer to open on Christmas with the Co-Founder of The Full Pint. I would drink this now if you are holding onto a bottle, so you still enjoy the subtle coconut and silky mouthfeel.