Karl Strauss To the 9's Holiday Ale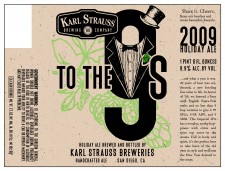 From Karl Strauss – To celebrate the memorable year that was 2009, Karl Strauss Brewing Company is releasing its first ever bottled holiday ale, To the 9's.  This beer commemorates the accomplishments of the past year, including the company's 20th Anniversary, a brewery expansion, and the addition of a brand new bottling line.  "2009 was a good year for Karl Strauss Brewing Company and we wanted to have a little fun with this beer by making it all about the 9's—9% ABV, 99 IBUS, 9 SRM, and 9 types of hops," says Paul Segura, Brewmaster.
Karl Strauss Brewing – To the 9's Holiday Ale – 22 oz. bottle poured into a pint glass. 9% abv.
Appearance: Pours a clear copper with a sturdy cap of white cream.

Aroma: Freshly made kettle corn  and pineapple.
Taste: Pineapple, papya, caramel, and earthy resinous hops.
Mouthfeel: Thick.
Overall: A fantastic, unique double IPA. Not so much a "Christmas" beer, but definitely a beer to cap off a year of bold new beers.