Full Sail Wreck The Halls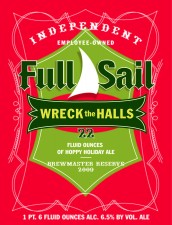 From Full Sail Brewing – An annual favorite, this hoppy holiday ale is aggressive yet sublime, assertive yet mellow, complex yet drinkable, and has a lot of hops in it! Available in 22oz Bottles and Draught
Full Sail Brewing – Wreck The Halls – 22 oz. bottle poured into a pint glass. 6.5% abv.
Appearance: Pours a dark amber with a creamy layer of head.
Aroma: Fresh cut apples, sweet malt, bubble gum, cantaloupe and spruce-like hops.

Taste: Sweet, spicy malt, dry apple, piny hops. Finishes with a sweet cherry note and hop bitterness.
Mouthfeel: Sticky and juicy.
Overall: Very Christmasy, with a nice balance of sweets and hops. I've read other peoples encounters with this beer, and am wondering how I am missing that this beer is an IPA. Perhaps my palate had an off day, or maybe this is a malty Christmasy beer that happens to have a nice portion of hops as well. Anyway, its damn good.