Intercourse Blue Ball Porter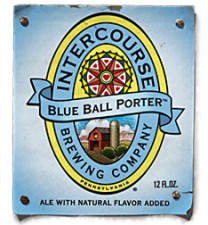 From Intercourse Brewing – Using all-natural ingredients, this deep, slightly smoky porter evokes a hint of blueberry in aroma and flavor; just enough to entice the senses. The smokiness of the malt in combination with the sweetness of the blueberries ultimately create an incredibly balanced beer.
Intercourse Brewing – Blue Ball Porter – 12 oz. bottle poured into a goblet – 5.2% abv. From Joe in PA!
Appearance: Pours a dark brown with virtually no head.
Aroma: Crushed blueberries and dough.

Taste: Slight burnt toast, blueberry, savory herbs and spicy hops.
Mouthfeel: Thick and fizzy.
Overall: Not bad. The herbal notes balanced out what might have been a blueberry muffin in a bottle.