Hoppin Frog Barrel Aged Naked Evil BBW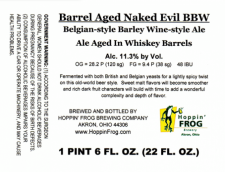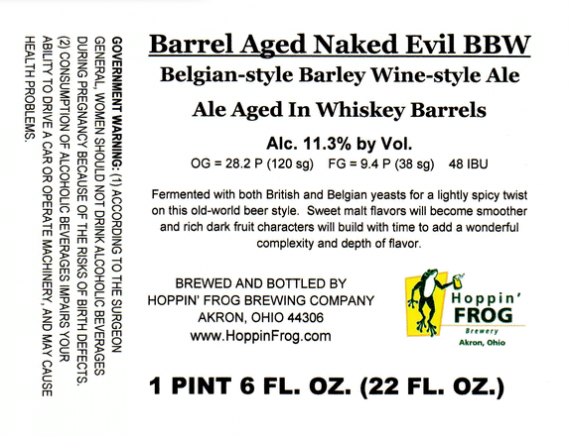 From Hoppin' Frog – On a recent trip through Belgium visiting the monastery breweries, we discovered an excellent barrel aged ale that had an incredibly satisfying flavor combination. Aging in oak barrels added a memorable richness, that we seek to achieve with this barrel aged Belgian-style barley wine-style ale. Being the ideal celebration beer to release on our 5-year anniversary, Barrel Aged Naked Evil is fermented with both British and Belgian yeasts and aged in whiskey barrels for a lightly spicy twist on this old-world beer style.
Hoppin' Frog Brewery – Hoppin' Frog Barrel Aged Naked Evil BBW (Belgian Barley Wine) – 22 oz. bottle poured into a goblet. 11.3% abv.
Appearance: Pours a dark amber brown with no head or lacing.
Aroma: Dates and raisins, caramel, apple crisp, alcohol, hawaian punch.
Taste: Big rich chewy caramel, bourbon, dates. Finishes sweet and boozy. Not much barrel character underneath all that sweetness.
Mouthfeel: Full bodied, sticky, almost cloying.
Overall:  Way to sweet for me.