Hill Farmstead Arthur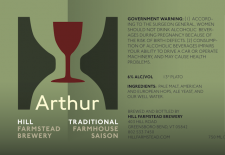 From Hill Farmstead – Arthur (1922-2005) was our grandfather's youngest brother; Hill Farmstead Brewery rests upon the land that was once home to him and his 13 siblings. In his honor, this Saison is crafted from American malted barley, American and European hops, our distinctive farmhouse yeast and water from our well. Unfiltered and naturally carbonated, this is the ale that I dream to have shared with Arthur. 6% Alc/Vol 13ºPlato
Hill Farmstead Brewery – Hill Farmstead Arthur – 750 ml. bottle poured into a goblet. 6% abv.
Appearance:  Pours a cloudy straw with a nice white cap of head.
Aroma:  Musty rainy earth and light herbal hop.
Taste:  Spicy earthy yeast,spicy hops, belgian yeast. Finishes bitter and yeasty.
Mouthfeel:  Medoum bodied. Soft, borderline creamy carbonation.
Overall: Such a complex, tasty beer , and at 6%, it's something I would wish to drink all summer long.  I had a friend who made a home brew with this particular yeast strain, and it was very tasty, so there is something very special going on here.