Hangar 24 Pugachev Royale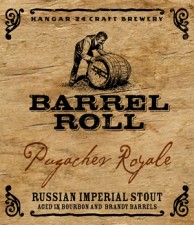 From Hangar 24 Craft Brewery – Pugachev Royale is a more developed version of Cobra. We added cacao nibs and vanilla beans to a select few barrels of Pugachev's Cobra during its eight months in Bourbon Barrels, then transferred it to brandy barrels for an additional 10 months of aging. Royale displays sweet, ripe fruit notes doused with incredible chocolate aromatics. This is a truly decadent beer to be saved for a special occasion, and will evolve in the cellar for years to come. Approximately 400 hand-numbered 11.2 oz bottles will be available in the Tasting Room only. Purchases of Royale will be limited to one per guest.
Hangar 24 Craft Brewery – Hangar 24 Pugachev Royale – 11.2 oz. bottle poured into a goblet. 14.8% abv.
Appearance:  Pours dark brown with no head no swirls no lace.
Aroma: Bourbon, grahm cracker, vanilla.
Taste:  Bourbon, roast, milk chocolate,booze for days. Oak.
Mouthfeel:  Super warm. Full bodied, modest carbonation.
Overall: I like this considerable more than the already delicious Pugachev's Cobra. Even more complex than how I can describe it in words, I'd rather drink this than any BCS any day. Let's hope H24 ups the yield on this beer.