Grassroots Arctic Saison
From Grassroots Brewing – This ale embodies the spirit of perpetual creative collaboration in conjunction with disciplined brewing endeavor. We trekked to Alaska and helped craft this rustic Saison, bring with us the essence and imagination of our Vermont Farmstead Family. Share. Consider. Enjoy…  Ale Fermented in Oak Tanks with Brettanomyces.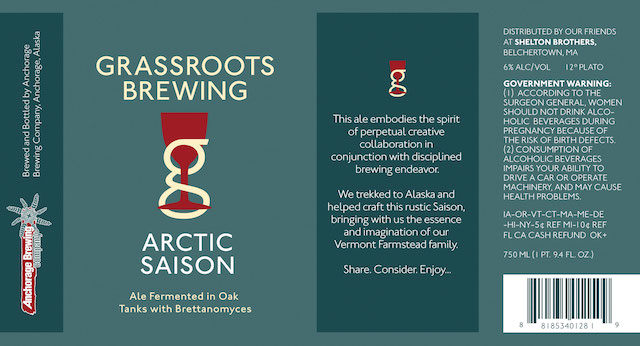 Grassroots Brewing (Collaboration between Hill Farmstead and Anchorage Brewing) – Arctic Saison – 750 ml. bottle
Appearance:  Pours hazy yellow gold with a fluffy white head.
Aroma:  Big barn yard, funk, pineapple.
Taste: Tart lemon, industrial bitterness, euro hops.
Mouthfeel:  Full bodied puckering.
Overall: Delicious, perfectly amount of alcohol, dry, pairable.