Grand Teton Double Vision Doppelbock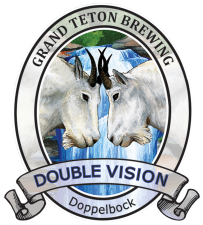 From Grand Teton – Double Vision Doppelbock highlights our brewery's wonderful glacial spring water and has been brewed in strict adherence to the Reinheitsgebot*. This beer has a luxurious tan head and a bready aroma with a hint of smoke and is dark leather in color with ruby notes. It is lightly spiced with Liberty hops, an American version of the noble German Hallertau Mittelfruh, and fermented with lager yeast from a monastery brewery near Munich.
Grand Teton Brewing – Grand Teton Double Vision Doppelbock – 750 ml. bottle poured into a goblet. 8% abv.
Appearance:  Pours dark brown with a decent cap of tight nit tan head.
Aroma:  Coffee like roast, grain, cereal and dark chocolate.
Taste:  Dark roast, minerals, a touch of wood/smoke, dark chocolate, pumpernickel. Beneath all the savory, smoke and bitter chocolate is a little bit of sweetness.
Mouthfeel:  Full bodied, easy going carbonation.
Overall:  While not much like some of the German Doppelbock's I've tried, this was big, bold, flavorful and most importantly, enjoyable.