Fuller's London Porter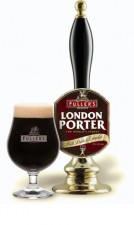 From Fuller's – It is brewed from a blend of Brown, Crystal and Chocolate malts for a creamy delivery balanced by traditional Fuggles hops. The range of flavours works well with a wide variety of foods, ranging from rich meat dishes, to oysters, and even chocolate puddings.
Fullers – Fuller's London Porter – 12 oz. bottle poured into a goblet. 5.4% abv. Purchased at Whole Foods Market Pasadena, CA.
Appearance: Pours a dark reddish brown with tan swirls of soapy head.
Aroma: Light roast, light medium coffee roast, a bit of musty dog and herbal hops.

Taste: Sea salt topped dark chocolate brownies, mineral water and bitter spicy hops.
Mouthfeel: Thin and fizzy.
Overall: A very enjoyable, dry porter. Super solid.