Flying Dog Wild Dog Barrel-Aged Gonzo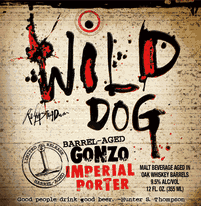 From Flying Dog – Hunter S. Thompson once said, "When the going gets weird, the weird turn pro." Consider this our professional version of Gonzo Imperial Porter. Aged and seasoned for three months in wood barrels from our neighbors at Stranahan's Colorado Whiskey, this ale has a well-balanced taste and abundance of character. The taste will remind you of sweet chocolate, dry oak, and smooth whiskey with a memorable, velvety mouthfeel.
Flying Dog Brewery – Flying Dog Wild Dog Barrel-Aged Gonzo – On tap at 38 Degrees. 9.5% abv.
Appearance:  Pours a viscous dark brown with a thin white ring around the top perimeter of the glass.
Aroma: Bourbon, chocolate cereal, dark fruit, vanilla. Pure decadence.
Taste: Smooth, sweet bourbon, dark chocolate, herbal hops, cola, toasted nuts and burnt roast.
Mouthfeel: Thick, a bit rough with prickly carbonation.
Overall: A fantastic well executed BA dark beer. The best beer Flying Dog makes.