Firestone Walker XVI (Sixteenth Anniversary Ale)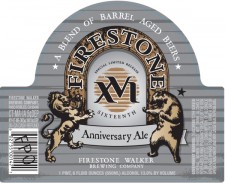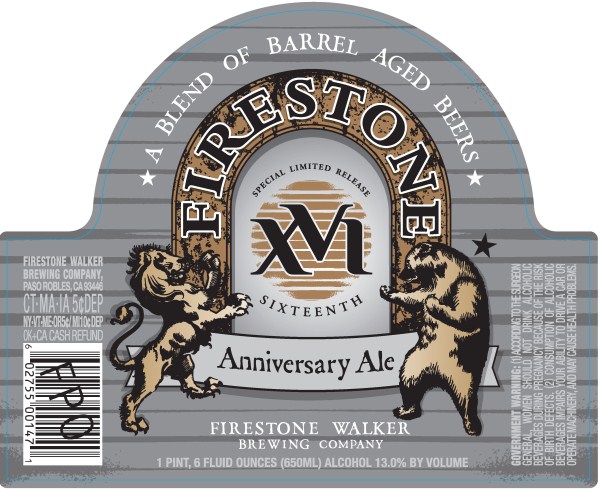 From Firestone Walker – Sixteen is the seventh release in Firestone Walker's anniversary series, dating back to the release of the inaugural anniversary release called "Ten" in 2006. Over the ensuing years, Firestone Walker has developed one of the craft beer industry's most extensive barrel aging programs, spanning upwards of 1,500 barrels. Brewing beer with oak barrels has been a pioneering focal point for the brewery since its founding in 1996.
Firestone Walker Brewing – Firestone XVI (Sixteenth Anniversary Ale) – On tap at the release party – 13% abv.
Appearance:  Pours amber brown with tan frothy edges.
Aroma:  Big spirit barrel (bourbon, big oak, brandy) leather and chocolatey roast.
Taste: Big char and roast, dark chocolate, tons of wood and bourbon. After subsequent samples, the agressive char and roast made way for some more pleasant bourbon sweetness and chocolate.
Mouthfeel:  Full bodied, modest carbonation. Not nearly as sticky as other FSW Anniversary ales.
Overall:  I'm happy to report that this beer isn't like XIV or XV, which I found to be very similar to one another. I would also say, while this is stout heavy, it's nothing like XIII either.  Lots of barrel character, and way drier than I expected.  I feel I need to get to know this beer better and at different temperatures.  Very complex, very yummy and will definitely take some interesting turns in the next year or two.