FiftyFifty Eclipse Imperial Stout 2011 – Four Roses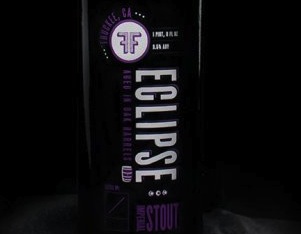 From FiftyFifty – Four Roses Single Barrel- 10 year old barrels. Barrels kept in cooler at around 36 degrees F. Approx 250 days aging. Should be a real treat. Estimated bottle count…1150. Subject to change…
FiftyFifty Brewing – FiftyFifty Eclipse Imperial Stout – Four Roses Vintage 2011 – Enjoyed at Library Ale House Santa Monica, CA 10% abv.
Appearance: Pours dark brown with a tan cap of swirls.
Aroma:  Big bourbon, vanilla, toasted coconut, wood.
Taste: Dark chocolate burnt roast, char, raisin, date and booze.
Mouthfeel: On the full side of medium bodied with creamy carbonation.
Overall: Not the leader in the vertical, but still delicious. The burnt roast is pretty dominiate as is the alcohol.