Dogfish Head Squall IPA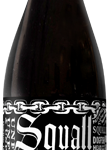 From Dogfish Head – An unfiltered, 100% bottle-conditioned, super-pungent imperial I.P.A. clocking in at 9% ABV and dry-hopped with Palisade, Amarillo, Simcoe, Cascade, CTZ, and Willamette hops.
Dogfish Head – Squall IPA – 750 ml bottle poured into a goblet. 9% abv.
Appearance: Pours an amber orange with a big soapy white head that subsides to a small gathering of sparse suds.
Aroma: Fresh cut pineapple,Lemon Pledge, butter brickle ice cream.

Taste: Piney hops, spicy nutty toffee like malt, grapefruit, pineapple and sweet white grape. Finishes with spicy sturdy bitterness.
Mouthfeel: Juicy with modest carbonation. Sticky lasting bitterness.
Overall: An amazing show of a Double IPA. A perfectly balanced, spicy, sweet sticky hop monster.