Dogfish Head Immort Ale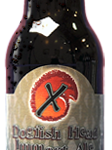 From Dogfish Head – We started brewing Immort Ale at our brewpub in 1995 and began bottling it in 1997. For this beer, we use maple syrup from Red Brook Farm – Sam's family farm in Western Massachusetts, peat-smoked barley, juniper berries, and vanilla.
Dogfish Head – Dogfish Head Immort Ale – 12 oz. bottle poured into a goblet. 11% abv. From Online Trade.
Appearance: Pours a dark rust color with a thin white film for head.
Aroma: Wood, sour cherry, vanilla and a hint of booze and spicy hopping.

Taste: Wood, sweet cherry, vanilla, bitter hops. The wood and hops leave a lingering enjoyable level of bitterness on the tongue well after the sip.
Mouthfeel: A bit tanic and astringent with moderate carbonation.
Overall: Awesome big bold flavors, great level of bitterness. Very surprised at how good this is in proportion to it's lack of hype. I shouldn't be though.