Creature Comforts Automatic
Product description: Automatic is a modern pale ale with an ABV of 5.2% that features a prominent hop flavor and aroma. The beer appears hazy and straw colored with densely packed and persistent white foam. A mix of Mosaic and Crystal hops are used to create a delicate balance and give the beer an aroma that features a complex array of berry, citrus, herbal and pine notes.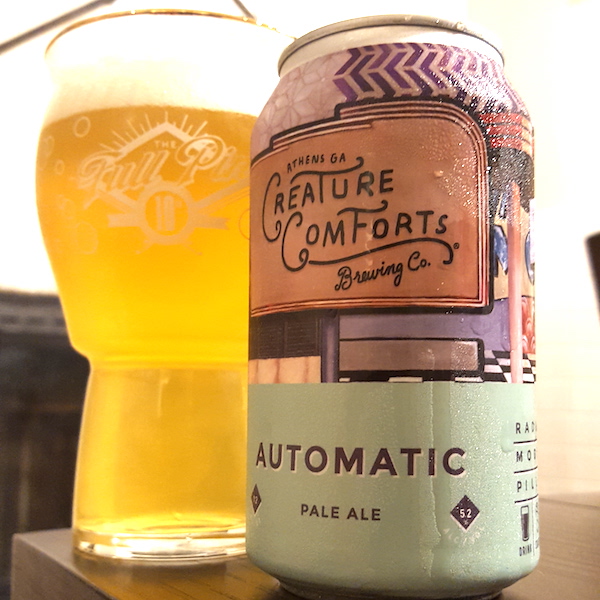 Creature Comforts Brewing Co. – Creature Comforts Automatic – 12 oz. can poured into speciality glassware – 5.2% abv.
Automatic is a seasonal release from Creature Comforts. I miswrote earlier that this was a core brand, but it probably should be a core brand after sampling it! Before I even open this can, I must mention the beautiful label artwork. It's 100% original and reminds me of something by Edward Hopper or Joseph Stella – American industrial art deco. I'm in love. It also has a canned-on date on the bottom of the can. In this case, 8/19/17 or 11 days ago. Score.
Automatic is unclear, bright straw in color with large-bubbled, meringue-like foam that dwindles quicker than I'd like but leaves behind incredible lace stuck along the glass. The aroma is excellent with bright lemon balm, vanilla frosting, and lemon pound cake culminating nicely from the Mosaic hop addition. The Crystal hops in this beer I'm less familiar with, but they seem to be a mostly aroma hop. Perhaps that where I get the green plants and lemon balm herbal character from, which intensify as the beer warms.
White pepper and honeydew rind dominate the flavor here while the mouthfeel is super dry and nicely crisp thanks to the no specialty malt recipe. This is a double-edged sword, however, because you gain a lot of snappy, clean pale malt character from that recipe, but without any sugar left in suspension, the hop bitterness is accentuated without much balance. This runs the risk of the beer being abrasive or astringent. In this case, Automatic tows the line and just sneaks past the harsher categories. Your mouth is left feeling desiccated like chewing a cotton ball, but the bitterness on this beer is low enough to not cause any abrasiveness after that. In fact, the beer is mild on the IBU spectrum. Coupled with the lower 5.2% ABV, this is the real deal American Pale Ale you can sit back and enjoy. Thank you for not making another 7%, 100 IBU, amber APA! There's a lasting finish as well that reminds me of sourdough bread, flour, and mild lemon acid. It's pleasant but also atypical for APA.
Overall, Automatic is a great example of a modern APA re-imagined by top breweries today: no specialty malt, aroma hop-focused, lower bitterness, lower alcohol, and totally focused on letting you enjoy the beer. It's a great beer to introduce others who usually shy away from mega hop bombs because of the intensity. This is not intense, but it is delicious. My only criticism is that the body is too dry for the style and just needs a touch of sugar to allow the other flavors to pop.