Craftsman Triple White Sage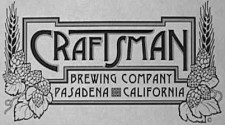 Craftsman Brewing – Craftsman Triple White Sage – On tap at 38 Degrees Alehouse . 9% abv.
Appearance: Pours a semi-clear amber gold with a small white film of head.
Aroma: Big time sage and spicy Belgian yeast.
Taste: Big herbal, mint with some candi sugar and spicy yeast.
Mouthfeel: Syrupy with modest carbonation.
Overall: Close to my favorite sage/herb beer Saison du Buff, but I like the drier yeast profile in SDB much better. This beer was close to toothpaste for me due to the Belgian sugar sweetness.