Cigar City Guava Grove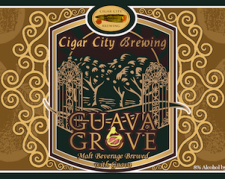 From Cigar City Brewing – Guava Grove Ale is a Belgian ale that sees a secondary fermentation with and extended aging on Guava puree. The complex flavors imparted by both the Belgian yeast strain and the Guava are unlike anything you are likely to have encountered. This is an elegant beer that pairs well with white fish, mussels, fresh tropical fruits and earthy cheeses. It also makes a fine accompaniment to Guavaween festivities.
Cigar City Brewing – Cigar City Guava Grove – 750 ml. bottle poured into a goblet. 8% abv. From Sebastian in AZ
Appearance: Pours a hazy amber gold with a thin white head.
Aroma: Sour fruit, guava, earthy yeast and plum skin.
Taste: Tart guava, earthy spicy yeast and a little bit of chlorinated water (could be a guava aftertaste?)
Mouthfeel: Full bodied with modest carbonation.
Overall: A really refreshing treat. I was very pleased with this beer from all aspects. Just enough tartness. I also kept in mind that Guava is a weird fruit with unique flavor and aromatics.