Cigar City Don Gavino's Big Guava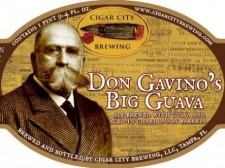 From Cigar City Brewing – We salute Don Gavino with this tart guava ale, aged in chardonnay barrels to create a balance between the sweetness of the base beer and fruit with the tartness of the lactic fermentation.
Cigar City Brewing – Cigar City Don Gavino's Big Guava – 750 ml. bottle poured into a goblet. abv. unknown.
Appearance:  Pours honey gold with a thin dense white film.
Aroma: Light guava , dank weed, wine barrel, grass.
Taste: Big Brett/ white wine. Industrial, pineapple brett. Pale dry malt. I didn't find the base beer to be all that sweet, as mentioned in the product description. Gonna guess 7% ish on the abv.
Mouthfeel:  Full bodied ,average carbonation.
Overall: Tart, refreshing, complex, aromatic. Reminded me of my early experiences with Nebrasa Brewing's barrel aged farm house beers, which is a compliment.