The Bruery Black Tuesday Imperial Stout (Vintage 2013)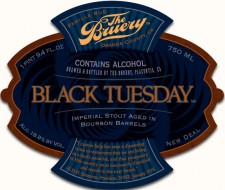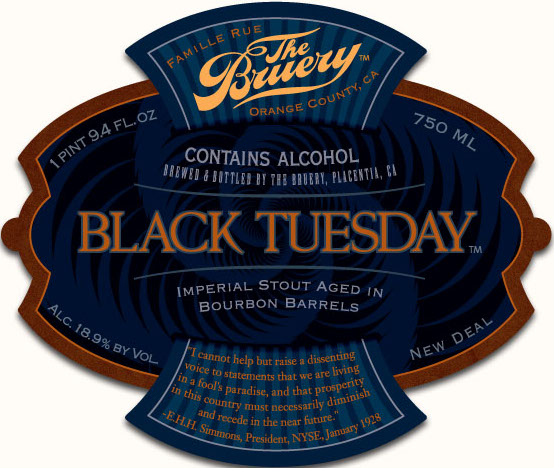 From The Bruery – Our infamous Black Tuesday is an imperial stout aged in bourbon barrels for over a year. Rich caramel, toasted malt, vanilla, burnt wood and anise are just a few of the many flavors in this rich, decadent imperial stout.
The Bruery – The Bruery Black Tuesday Imperial Stout 2013 Vintage enjoyed in 2013 – On tap at The Bruery poured into a whisky glass. 18.9% abv.
Appearance:  Ink black with no head and less than a dozen bubbles.
Aroma:  Dark fruit, tobacco, bourbon, soaked wood, rum raisin
Taste: Dark fruit, caramel, chocolate, fig, anise, bourbon, dark roast coffee.
Mouthfeel:  Thick, smooth, a little numbing. Modest carbonation.
Overall: As you can tell, I got some dark fruit up front on this years vintage.  It's just as big as it's always been,although it seems the booziness is jiving well with the rest of the beer and seems better integrated than before.  While super delicious, it's still a monster and still hits me between the eyes like no other beer.  I recommend everyone try this if they have not, it's quite an experience.