The Bruery The Wanderer Makes Its Return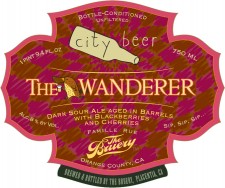 The Bruery sent out a quick memo to Reserve Society members this morning, and of extra interest is the return of The Wanderer. At this point, I think it's a safe bet that The Bruery will rebrew anything that was previously a hit.  Cheers!
Happy Friday Society members,
Three exciting announcements for you on this fabulous Friday morning.
First of all, we are very excited to announce that the second Mystery Beer of 2013 is none other than The Wanderer and it will make it's debut at our Barrel Party!  This fruited sour ale was first brewed along with some friends from City Beer Store in San Francisco back in 2011, when it won a Silver medal at the Great American Beer Festival.  It is a unique blend of a number of our barrel aged strong ales and sour ales to which we added blackberries and cherries.  A bottle of this beer is already included in your membership and further allocations will be on sale soon.
Second – the list of beers for the Barrel Party is printed below and it is HUGE.  We also have a few surprise casks that we'll be adding, but we'll keep those under wraps for the time being.
And finally, because of the late announcement on the beer list, we'll be giving you a couple of extra days to purchase your tickets if you haven't already done so.  Sales will be ending at 11:59pm on Sunday, 11/10.
Visit www.TheBrueryStore.com to make your purchase today!