Breckenridge Autumn Ale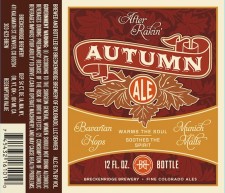 From Breckenridge – Breckenridge Brewery's fall seasonal combines the malty goodness of a German lager with the clean crispness of an American ale. Brewed with Munich malts and a delicate blend of Bavarian hops, our Autumn Ale is a full-bodied treat with a nutty-sweet middle, a warming alcohol level and notes of toasted grains. A pre-winter winner.
Breckenridge Brewery – Breckenridge Autumn Ale – 12 oz. bottle poured into a goblet. 6.7% abv.
Appearance: Pours a coca cola brown. With white film swirling atop.
Aroma: Toasty malt.
Taste: Toastes malt, roast malt eurohop bitterness and a touch of mineral character.
Mouthfeel: Medium bodied and a little rough.
Overall: A tasty malty brown ale. Very fresh.