Reviewed: Boulevard Tank 7 Farmhouse Ale
Product description: When our brewers were experimenting with variations on a traditional Belgian-style farmhouse ale, the perfect combination of elements came together in fermenter number seven. You could call it fate, but they called it Tank 7, and so it is. Beginning with a big surge of fruity aromatics and grapefruit-hoppy notes, the flavor of this complex, straw-colored ale tapers off to a peppery, dry finish.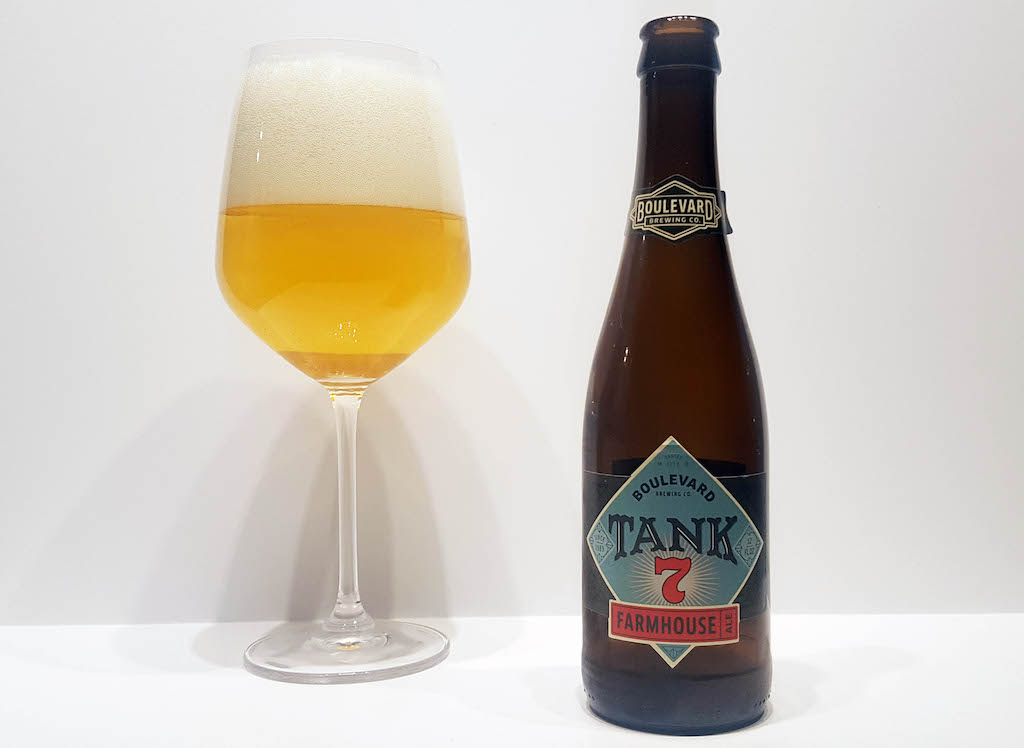 Sampled from 12 oz bottle with a best by date of 2/16/2018, Tank 7 is crystal clear golden in color with powerful foam at wants to rise out of the stemware. There's incredible head retention as expected in this style, but this one really looks phenomenal. Saison this clear is also a rare sight for me as most saisons I'm used to have prominent turbidity and heavy proteins in solution. It's a rustic, farmy beer usually. This one looks more refined.
The aroma is authentic Belgian pale ale with prominent herbal and grassy noble hop character. In addition, you get tons of coriander, lemon peel, Asian pear, white grape, dryer sheets, chamomile, and sagebrush. It's bright and inviting.
With the first sip, you really get that white alcohol punch right at the beginning. I took a look at the bottle again – 8.5% ABV! That is very high for a saison in my opinion. That puts it more on par with a Belgian strong pale ale like Duvel, the flagship beer of Boulevard's parent company. In the mid-palate, Tank 7 is bone dry, which accentuates the low 38 IBUs to an apparent 6 out of 10 bitterness-wise.
The mouthfeel has a bit of a clovey anesthetic quality to it. And that dryness I mentioned, it isn't the type of dryness I expect in a saison since usually there is some malt protein and yeast in suspension to give the beer some body and an unfinished ale type of mouthfeel. Even though saisons are usually light-bodied, there is some substance there in the mouthfeel. But for Tank 7, the flavor is too simplified and the liquid too clarified and filtered to get that farmhouse quality I adore. Yes, there is some yeast sediment at the bottom you can dump in, but that is not the same.
The overall result is something that is herbal, bright, and dry like a saison; but the mouthfeel is too dry for this monster ABV, which gives this an unpleasant, anesthetic white alcohol character. With its cousin Duvel, that beer has some sugar in solution for body and balance that offsets the herbal hop bite and hefty alcohol.
If Tank 7 was more in the 4.5% to 6.5% ABV range, I think we'd really have an excellent saison here. But one of the few if not possibly the only requirement for saison is that it should be drinkable, refreshing, and quenching. The mouthfeel here just isn't at that level for saison in my opinion. Yeah, we could argue about style semantics all day as I would say this is more in line with a strong Belgian pale ale. Whatever style you believe it is, you can't get away with something this dry at 8.5% and then also give it that hop bite. The end result is not unlike a Brett Double IPA, which you don't hear of very often because it doesn't work. All that alcohol and bitterness doesn't match up well with a fully attenuated body.