Big Sky Moose Drool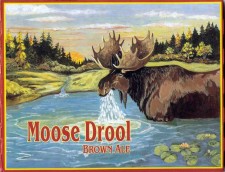 From Big Sky Brewing – Moose Drool is our Brown Ale. Far and away the best selling beer brewed in Montana, Moose Drool is chocolate brown in color with a creamy texture. Our brown ale is a malty beer with just enough hop presence to keep it from being too sweet. The aroma also mostly comes from the malt with a hint of spiciness being added by the hops. Moose Drool is brewed with pale, caramel, chocolate, and whole black malts; and Kent Goldings, Liberty, and Willamette hops.
Big Sky Brewing – Big Sky Moose Drool – 5.3% abv. On tap at 38 Degrees in Alhambra, CA
Appearance: Pours an amber brown with a white head that quickly subsided to a mere ring.  Didn't leave any lacing on this pour.
Aroma: Dark fruit,walnuts and a touch of roast.
Taste: Fruity notes up front, pear perhaps, burnt toast, Brazil nuts with a modest spicy hop finish.
Mouthfeel: Medium bodied, very prickly.
Overall: A pretty solid brown ale. I would definitely drink this again if I was in a Brown Ale mood.