21st Amendment Monk's Blood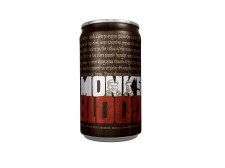 From 21st Amendment Brewing – Brothers Nicolas and O'Sullivan (21st Amendment founders Nico Freccia and Shaun O'Sullivan) developed the beer as an homage to the monks of Belgium's monasteries who have been brewing some of the world's great beer for centuries. "During times of fasting, the monks subsist solely on beer, which they refer to as 'liquid bread,'" notes Brother O'Sullivan. "Beer, quite literally, is in their blood," he adds. The most sublime of the monk's premium brews is dark like blood, rich and nourishing.
21st Amendment Brewing – Monk's Blood – 12 oz. glass poured at the brewery – 8.3% abv.
Appearance: Pours a dark maroon with a thin tan head. Leaves random webby lacing.
Aroma: Red apple skins and spicy/sweet Belgian yeast.
Taste: Tangy red berry, oak, cinnamon, spicy hops as well as spicy Belgian yeast. I was looking for the vanilla that was mentioned in the description, but couldn't find it. I was told I needed at least four glasses before fining it. =-)
Mouthfeel: Medium bodied, perfectly carbonated.
Overall: Delicious and complex, and very attractive in a tulip glass. It was served on the cold side, and had it not been so tasty on a cold rainy San Francisco day, I would have taken it slower with this beer, in effort to get to know it better.