Yazoo Brewing Embrace The Funk Bottle Sale April 2, 2015
(Nashville, TN) – Ready for some more funk?!? Can't wait until May 3rd for our Embrace the Funk Fest? We've got great news for you…when the taproom opens at 4pm on Thursday April 2nd we will have 3 DIFFERENT bottles of Embrace The Funk beers for sale! Yup, no fooling here… Deux Rouges (Batch 2) plus 2 newcomers – Funky Blue Persuasion and Delicieux will be released!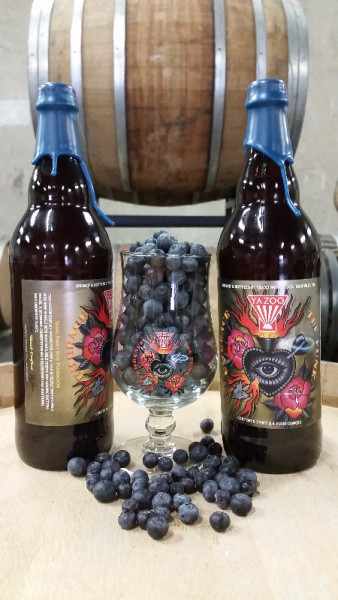 Deux Rouges (Batch 2)- Brewed in late 2013 this Flanders Red style evolved for over a year with wild yeasts and souring bacteria in Merlot wine barrels. This marriage of funky red beer and red wine creates a wonderful array of dark fruits, oak, vanilla and tartness. This is the base beer used in our Great American Beer Festival award winning "Cherry Deux Rouges". Limit 4 bottles per person $20 each (750ml).
Delicieux – Historically the Belgian Pale Ale style was a "session" or "everyday" beer for the areas around Antwerp, Belgium. Our version of this Pale Ale is fermented with a classic Belgian yeast and two Brettanomyces strains from the Senne Valley in Belgium. Upfront subtle maltiness and spicy/peppery aromas from a generous Styrian Golding dry hop addition, lead to a hoppy dry delicate funky finish. Delicious! This ever-changing beer will age well. No limit on bottles (12oz) at $4 per bottle.
Funky Blue Persuasion – This is a 100% wine barrel fermented golden sour ale that aged with souring bacterias and wild yeasts. Then we added over 2 pounds of Blueberries per gallon along with a fresh dose of funky Brettanomyces for a secondary fermentation. Right now this deep dark blue colored ale is bursting with a pleasing balance of blueberry, lemon citrusy sourness and funky Brett character. Make sure you don't drink this one too cold, the character will come alive as it warms. With age the fruit will fade and the beer will increase in sour/funkiness. This is a single barrel batch, so we have to put a limit of 1 bottle per person at $25 each (750ml).
ETF Glassware – We have something else to announce…we will start selling the ETF taproom style glassware at this release and are offering a special deal with the bottle! On Thursday only you can grab a bottle of Funky Blue and an ETF taproom glass for $30, limit 1 per person. The normal price for the taproom style glassware will be $8 each.