Wynkoop Leads Releases Collaborative Fundraiser Beer for Creative Denver Week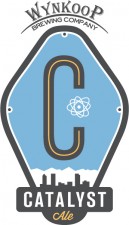 Denver, Co – On May 8 at 5 PM, Wynkoop Brewing Company will release a brand new beer brewed especially for Create Denver Week, a series of events held May 10-13 that showcases Denver's creative community.
The beer – Catalyst – is a one-time-only, unfiltered extra pale ale made with 100% Colorado-grown malts (from Colorado Malting Company) and locally grown hops from Voss Farms, a small hop farm in Arvada, Colorado.
Catalyst was fermented with yeast (from American and British strains to Belgian yeasts) from seven Denver breweries: Wynkoop Brewing, Breckenridge Brewery, Strange Brewing, Renegade Brewing, Denver Beer Co, Wit's End Brewing and Copper Kettle.
Blonde in color, Catalyst sports a bright white meringue-like head and aromas of white pepper, pine and lemon peel. Its flavors of pale malt and subtle sweetness give way to citrus and herbal flavors and a dry, palate-cleansing herbal finish.
It's a complex, assertively hopped but immensely quaffable version of liquid art that showcases the unexpected wonders of different yeasts — and different beer artists — working arm in arm.
"A cool aspect of Denver's craft breweries," says Wynkoop head brewer Andy Brown, "is their willingness to work together. The fact that seven breweries contributed a little bit of their house flavor to this beer makes it very rare and special."
Catalyst is 5% ABV and has about 40 IBUs (International Bittering Units). It is 100% collaborative.
Wynkoop Brewing will donate $1 from the sale of each draft of Catalyst to Create Denver, the producer of Create Denver Week and an initiative of the city's Arts & Venues Denver division.
A short selection of Denver's most beer-minded establishments will also carry the beer and make a similar contribution.
"Wynkoop has been a longtime pioneer and champion for Denver's creative sector," says Create Denver's Lisa Gedgaudas. "With this beer project, the brewery once again shows its willingness to collaborate with and support the local arts community."
For the 2011 Create Denver Week, Wynkoop Brewing created a series of special cask-conditioned firkin beers for Create events. The firkins were spiked with an array of spices and local honey from the Brown Palace beehives, and were tapped at some of the showcase events of that week.
"This year we wanted to do much more, "says Wynkoop's Marty Jones, "so we volunteered to brew a full (20-barrel) batch of something that would turn a few heads. We wanted a thrilling, never-to-be-brewed-again beer that paid tribute to Create Denver Week and the "let's work together" spirit of Denver's brewers and other artists."
A number of artists were involved in the Catalyst project. Ben Gust (Design & Image) created the logo for the beer, while Rick Griffith (Matter) produced letter-press posters and coasters for the beer.
Frank Phillips (The Public Works) created custom-made tap handles for the beer, and Thoma Kolicko (Free Mind Productions) created a documentary on the making of the beer and its posters, tap handles and launch.
More details on this draft-only beer and the local establishments carrying it are available at www.wynkoop.com .