New Belgium Somersault Ale Returns For The Summer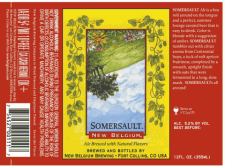 Ft. Collins, CO, MAY 3, 2012 – New Belgium Brewing (www.newbelgium.com) today announced that Somersault Ale is back as the brewery's summer seasonal. Somersault debuted in 2011, applauded for its relaxed, yet amusing, approach to summertime sipping.
Somersault is an amber tinted blonde that tumbles out with citrus aroma from Centennial hops, a soft apricot fruitiness tucked into the flavor, a full mouthfeel from the addition of oats and a crisp, dry finish from the subtle addition of ginger.
"Warm weather stirs the desire to enjoy beers with a playful nature," says New Belgium Brewer Grady Hull.  "Somersault is light, but full of ingredients that tantalize the palate."
Somersault is 5.2% ABV and is available in most New Belgium markets now through September.
To find New Belgium beers in your area, you can use the New Belgium Libation Location tool: http://www.newbelgium.com/beer.aspx. You can also follow New Belgium on Facebook at https://www.facebook.com/newbelgium.
About New Belgium Brewing Company
New Belgium Brewing Company, makers of Fat Tire Amber Ale and a host of Belgian-inspired beers, began operations in a tiny Fort Collins basement in 1991. Today, the third largest craft brewer in the U.S., New Belgium produces nine year-round beers; Fat Tire Amber Ale, Sunshine Wheat, Ranger IPA, Belgo IPA, Shift Pale Lager, Blue Paddle Pilsner, 1554 Black Ale, Abbey and Trippel, as well as a host of seasonal releases.  In addition to producing world-class beers, New Belgium takes pride in being a responsible corporate role model with progressive programs such as employee ownership, open book management and a commitment to environmental stewardship.  For more information, visit www.newbelgium.com.