Worthy Brewing Releases New Worthy IPA Can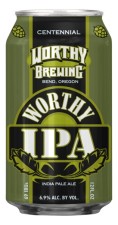 Bend, OR – A new look is coming to Worthy Brewing Company's most popular flagship beer, Worthy IPA. The 12-ounce six-pack cans will now be packaged in a "hop green" can.
"The change is for a more consistent look in the retail market," reports Worthy's Creative Director, Dave Zinn, "The new look of the green can will better align with the current portfolio of our packaging." The updated packaging is expected to hit retail markets the week of June 12.
Renowned for his IPAs, Brewmaster Chad Kennedy raised the bar. This clean, crisp, and refreshing beer is amazingly balanced. A tribute to Worthy's friends at Indie Hops, Worthy IPA is bursting with the finest hops Oregon has to offer: Nugget, Centennial, Meridian, Crystal and Horizon. John Foyston of The Oregonian has even dubbed Worthy IPA as "…the best IPA ever." The year round releases of the expanded packaging will be distributed by Columbia Distribution in Oregon and Washington, Hodgen Distribution in Eastern Oregon and by Hayden Beverage in Idaho.
Worthy Brewing Company delivers remarkably balanced, filtered ales that are hand-crafted using all natural, premium ingredients and the pure mountain water from the Cascade Range in Bend, Oregon. Their flagship beers include 12-ounce cans of: Worthy IPA, Worthy Pale Ale, Easy Day Kolsch, and Lights Out Stout. Their bottling line also cranks out 12-ounce six packs of Worthy IPA and 22-ounce bottles of Worthy IPA, Worthy Imperial IPA and Eruption Imperial Red Ale, along with limited releases of seasonal beers.
Worthy Brewing Company opened its doors in Bend, Oregon in early 2013. Within its first year, a canning line, bottling line, expanded fermentation space, a kitchen expansion and the addition of a five-barrel pilot brew system were completed. Worthy also boasts a greenhouse and hop yard onsite for growing estate and experimental hops in conjunction with Oregon State University and Indie Hops.
www.worthybrewing.com – @WorthyBrewing – facebook