World's Spiciest Beer To Be Distributed To 7 States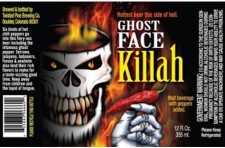 Twisted Pine Re-releases Ghost Face Killah – World's Spiciest Beer to be Distributed in 7 States
Boulder, Colorado – Twisted Pine Brewing Company had a simple objective in mind when developing Ghost Face Killah: to make the spiciest beer in the world. Owner Bob Baile explains how the idea for the beer was born in response to constant requests from fans of the brewery's standard chili beer, Billy's Chilies, for something 'hotter'. "Customers kept asking for more heat and we were determined to oblige them." The reaction has been overwhelming.
At its base, Ghost Face Killah is an American-style wheat ale, but it is undeniably different than any other wheat beer out there. Once fermentation is complete, six different strains of chili peppers are introduced: Anaheim, Fresno, jalapeño, serrano, habanero and bhut jolokia, the 'ghost' pepper. The result is liquid fire that makes endorphins rush and foreheads sweat. The intense heat presents itself immediately and persists for more than a minute after the sip. Due to the extreme nature of the beer, Ghost Face Killah is sold individually in twelve ounce bottles, as Twisted Pine feels that amount is the perfect dose.
Since bottling the beer for the first time in May 2011, demand for the capsaicin-loaded beverage has continued to surge. That batch was only available in Colorado, much to the dismay of Twisted Pine's out-of-state distributors. "We never really planned to mass-produce Ghost Face Killah," General Manager Jody Valenta points out, "but once we made it, everyone wanted some and the orders just came pouring in." This time, the brewers made enough for everybody and Ghost Face Killah is slated to appear in early January across Colorado, as well as in Texas, New Mexico, Florida, Nebraska, Missouri and Louisiana.
In addition to drinking it, cooks at Twisted Pine's Ale House have been finding creative ways to incorporate the piquant ale into the dishes they serve. On the premises at the brewery, Ghost Face Killah's distinctive flavor can be found in salsas, soups, and chili. Other restaurants in the Boulder area have taken note and there is now a growing interest in the culinary community for the fiery beer. Valenta, whose unofficial title at the brewery is Agent of Chaos, encourages chili lovers to "try and drink the beer first, and if it's too overpowering for you, use it in the kitchen."
Ghost Face Killah Stats
GFK is brewed with 6 zany peppers. Anaheim, Fresno, Jalapeno, Serrano, Habanero and Bhut Jolokia – Otherwise known as the Ghost Pepper. 200 times the heat of jalapenos, Bhut Jolokia are the hottest peppers in the world, a pepper so hot it can be weaponized. So hot that our brewers had to wear masks and gloves to cut them up. Aroma of smoked chillis fills the nose on first whiff, but don't let it linger to long. Immediately on first taste GFK has a nice golden wheat flavor, but this is only for a fleeting moment before the temperature rises. Just hold on, the warmth of this beer will set in for a long spicy burn. There is only one finish on this beer – HEAT!

Style: Chili Beer IBU'S: 10 Hops – Willamette, Northern Brewer ABV 5%
Availability: Only 100 cases bottled: To be released Thursday, May 5, 2011, Cinco de Mayo
Food Pairing: Ice-cream or milk, because that is all that is going to help you with this brew.
Based in Boulder, Colorado Twisted Pine Brewing Company has been handcrafting beer since 1995. They are the brewers of such favorites as "Hoppy Boy IPA," "Raspberry Wheat Ale" and "Billy's Chilies." The Ale House is a very popular local hangout and boasts 17 taps, 5 rotating. Twisted Pine is active with local charitable organizations and a strong believer in sustainable business practices. You can find more information at www.twistedpinebrewing.com.