Hangar 24 Becomes A Regional Craft Brewery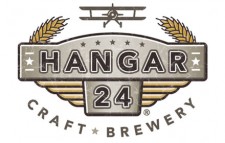 Hangar 24 Craft Brewery has graduated to the ranks of Regional Craft Brewery after brewing for less than four years.
Redlands, CA – On December 31st, Hangar 24 Craft Brewery broke the 15,000 barrel production mark and graduated from being classified as a "Microbrewery" to a "Regional Craft Brewery". (A Regional Craft Brewery produces between 15,000 and 6,000,000 barrels of beer per year.)
The Craft Brewer's Association recorded 1,767 Craft Breweries in the United States throughout 2010, of which only 80 reached the production levels of a Regional Craft Brewery. This statistic is a noteworthy testament to Hangar 24's viral success especially considering that Hangar 24 has been in existence for less than 4 years with current distribution only spanning throughout Southern California.
Hangar 24's Owner and Master Brewer, Ben Cook, acknowledges the brewery's achievement as a "complete team effort" amongst Hangar 24's brewing, retail, and sales and distribution departments. "We couldn't have done it without every single person on the Hangar 24 team," Cook said.
Cook also attributes the brewery's continued success to beer drinkers' evolving preferences and their search for more interesting, local beers.
Since they started brewing in mid-2008, Hangar 24 Craft Brewery has doubled their brewing capacity twice, and with their newest expansion (set to break ground late-winter) they look to nearly double their tank space once again. The expansion is necessary to fulfill their aggressive 2012 brewing schedule; including a new seasonal lineup, the launch of their Local Fields series, consisting of 6 beers all brewed with different, local ingredients, and additional releases in their growing Barrel Roll series.
Hangar 24 Craft Brewery's goal is to again double their production in 2012 and increase their distribution throughout all of California and likely into neighboring states.