Wild Barrel Announces 4 Can Releases for Saturday, August 11th
(San Marcos, CA) – On Saturday, August 11th at 10am, Wild Barrel Brewing Company will be releasing 4 new cans.
The details: All beers will be on tap the day of release and will be released in 4-packs of 16 oz cans. Limit six 4-packs per beer. All 4-packs will be $17.99+tax=CRV. See below for descriptions of the beers.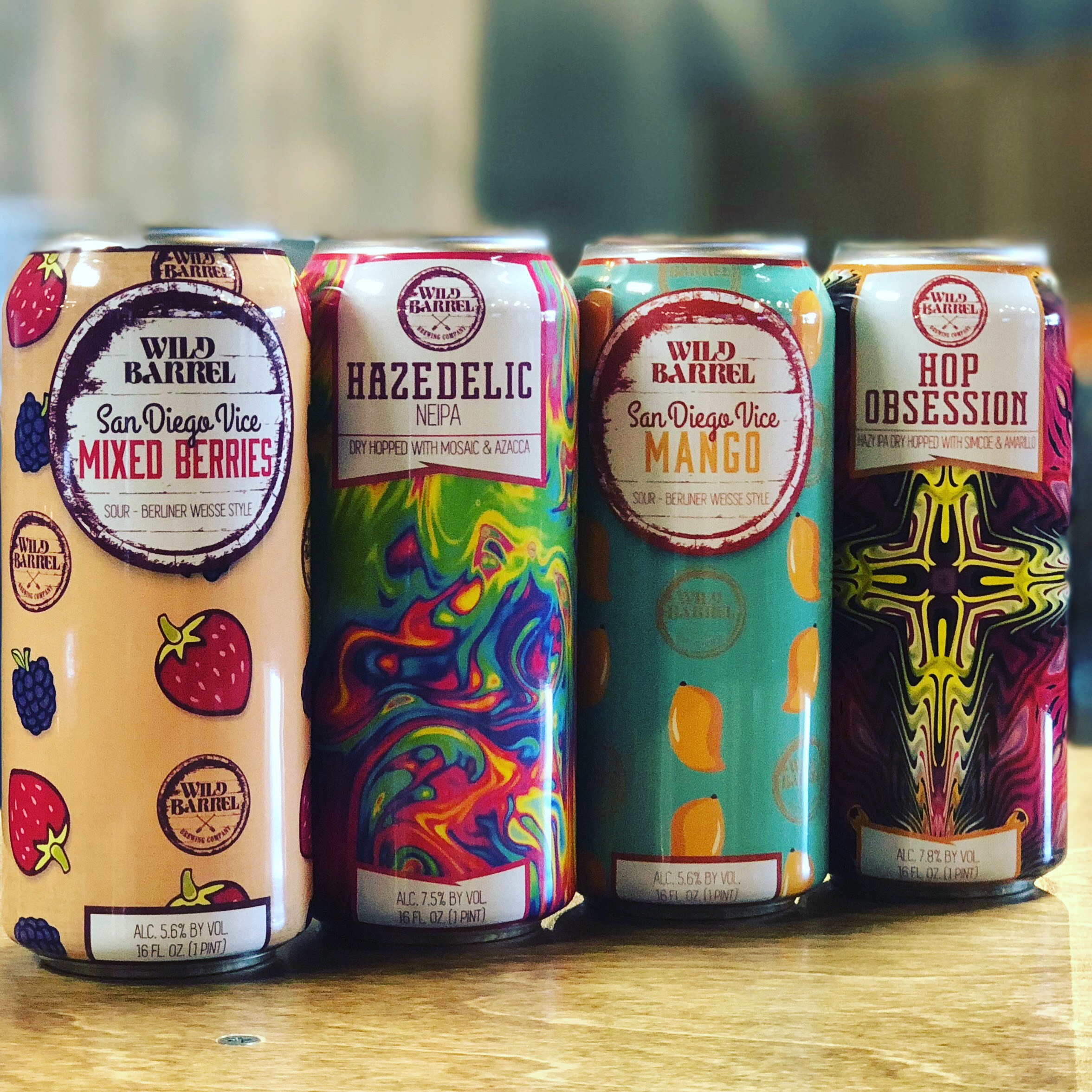 The beers:
Hazedelic 7.5% Hazy IPA dry hopped w/ Mosaic & Azacca.
Appearance: Hazy yellow with fluffy white head
Aroma: Mango, Papaya, Blueberry, Bubblegum, Pine
Flavor: Tropical notes, Peach, Pineapple, Berry, Citrus
Hop Obsession 7.8% Hazy IPA double dry hopped w/ a crazy amount of Simcoe & Amarillo.
Appearance: Hazy yellow gold with fluffy white head
Aroma: Big citrus, pine, woody, passion fruit
Flavor: Citrus burst of tangerine, grapefruit, passion fruit, piney finish
Vice w/ Mango 5.6% Berliner Weisse style sour w/ Alphonso Mangoes added.
Appearance: Bright yellow with white head
Aroma: Mango, Pineapple with strong tropical notes
Flavor: Sharp acidity on the front palate flowing into ripe tropical fruit notes on the mid-palate of pineapple, mango with a touch of stone fruit
Vice w/ Mixed Berries 5.6% Berliner Weisse style sour w/ Strawberries & Boysenberries added.
Appearance: Deep Purple with pink/purple head
Aroma: Initial Strawberry burst followed big ripe dark berry fruit notes.
Flavor: Rich juicy strawberry & Boysenberry jam with tart acidity on the back palate