Widmer Brothers Brings Back Pitch Black IPA & KGB Russian Imperial Stout
(PORTLAND, OR)  – Two recent favorites from Widmer Brothers Brewing's 30-year recipe archive were released this month in the brewery's 30 Beers for 30 Years Series: Pitch Black IPA and KGB Russian Imperial Stout. These beers represent the years 2010 and 2011, respectively, and both dark offerings are great for the last cold months of winter.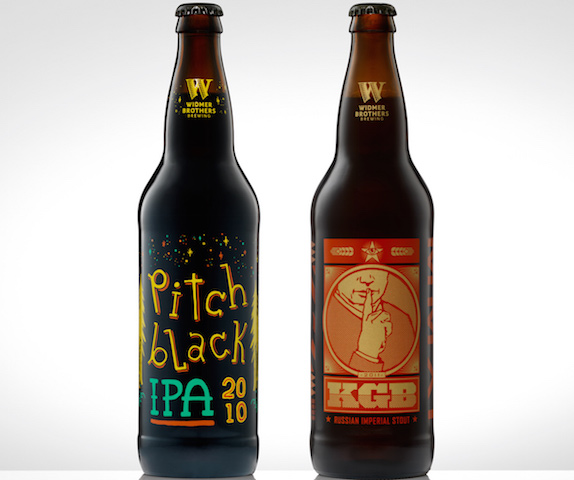 Both beers, as well as the entire 30 Beers for 30 Years Series, are available in 22-ounce bottles and on draught in the Portland area for a very limited time. Only 30 cases of each beer were brewed on Widmer Brothers' 10-barrel pilot system and packaged with custom labels designed by local artists. 
Pitch Black IPA was one of the original style examples that eventually became a formally recognized beer style, "American-Style India Black Ale," or as some would call it, Black IPA or Cascadian Dark Ale.
In 2010, Rob Widmer got together with a select few other Northwest breweries and industry luminaries at Belmont Station in Portland to discuss the new style. They used Pitch Black IPA and a few other notable NW offerings to build guidelines for the style. A proposal was drafted and sent to the Brewer's Association. The proposal was ultimately successful and "American-Style India Black Ale" became a recognized style that same year. Pitch Black IPA, or as it was known at the time, W'10, won a GABF Gold Medal in 2009.
KGB is a creation of longtime brewer Ben Dobler, who first presented this Russian Imperial Stout to beer drinkers in the Widmer Brothers Pub in 1998. The beer quickly turned into a Pub favorite, and was eventually bottled as part of the W-Series in 2011. The dark, full-bodied Russian Imperial Stout was available seasonally until 2013 and is occasionally available on draught.
These two re-released beers are available now throughout February, while supplies last. Each beer in the 30 Beers for 30 Years Series features unique label art from 30 different local artists and designers. Designer Justin Morrison of Scrappers created the Pitch Black IPA label, and John Fischer of MR. FISHYFISH created the KGB Russian Imperial Stout label.
To see the labels and learn more about the artists and the entire project, please visit www.30beersfor30years.com.
About the Beers
Pitch Black IPA – 2010
Along with a select few other beers from NW brewers, this beer helped write the BJCP style guidelines for "American-Style India Black Ale" or as some would rather call it, Black IPA or Cascadian Dark Ale. Bringing home a gold medal from the Great American Beer Festival in 2009, Pitch Black IPA is the perfect example of how the Pacific Northwest likes their beer…dark, bitter, with a ton of hops. 6.5% ABV
KGB Russian Imperial Stout – 2011
This long-time draught-only favorite was originally created by Ben Dobler in 1998 and was occasionally available as a small batch draught-only beer until we unleashed it on the public in bottles as our spring seasonal in 2011. Using roasted barley, chocolate malt, and Midnight Wheat, KGB has a color that is as dark as a torrid past, a body as full as a well-kept dossier, and a taste as complex as a conspiracy theory. 9.5% ABV
About Widmer Brothers Brewing
Founded in 1984, Widmer Brothers Brewing is celebrating 30 years of beer in 2014. Founders Kurt and Rob Widmer helped lead the Pacific Northwest craft beer movement in 1984 when, in their 20s, they began brewing unique interpretations of traditional German beer styles. In 1986, Widmer Brothers Brewing introduced the original American-style Hefeweizen, which elevated the brewery to national acclaim. Since then, the brewery has continued to push the boundaries of craft beer, developing a variety of beers with an unapologetic, uncompromised commitment to innovation.
Based in Portland, Ore., the brewery currently brews a variety of beers including Hefeweizen, Upheaval IPA, Alchemy Pale Ale, Drop Top Amber Ale, a full seasonal lineup, and a series of limited edition beers. For more information about Widmer Brothers Brewing, visit www.widmerbrothers.com.