Starr Hill Brewery Names Robbie O'Cain As New Brewmaster
(Crozet, VA) – Starr Hill Brewery is proud to announce the promotion of Robbie O'Cain to Brewmaster. Robbie succeeds Mark Thompson as Starr Hill's Master Brewer following Mark's recent retirement after 23 years in the craft beer industry.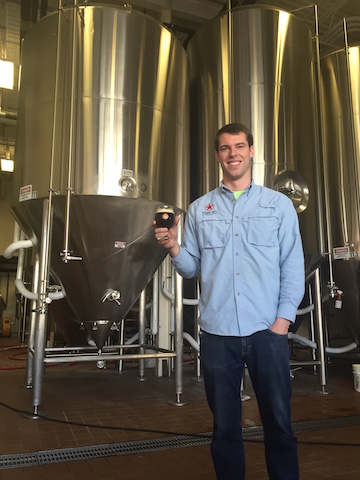 "To lead such a highly dedicated team here at Starr Hill is a fantastic opportunity," said Robbie. "Charlottesville is a wonderful area where I am able to participate in a vibrant craft brewing scene here in the foothills of the Blue Ridge and Shenandoah Mountains. I am excited to take this brewery to the next level by producing inspired, world-class beers."
Robbie attended the World Brewing Academy Master Brewer Program through Siebel Institute of Technology in Chicago and Doemens Academy in Munich, Germany. He went on to graduate at the top of his class and earned a Masters in Brewing Science. After joining Starr Hill in 2011, Robbie advanced through several positions, most recently as Manager of Brewery Operations.
"When Starr Hill's Founder and Master Brewer, Mark Thompson, announced he was going to retire from craft brewing, it did not take me long to decide to promote Robbie to be Starr Hill's next Brewmaster," said Brian McNelis, Starr Hill's President and CEO. "He earned it with hard work, leadership and results."
With Robbie heading the brewery's brand and recipe development in recent years, Starr Hill has released numerous award-winning new beers including Whiter Shade of Pale Ale, which won a gold medal at the 2014 World Beer Cup, and King of Hop Imperial IPA, which was named Best IPA in Virginia at the 2014 Virginia Beer Cup.
"I know Starr Hill brewing and brand development are in excellent hands with our new Brewmaster, Robbie O'Cain, and the talented brewing team," said Mark Thompson.
"Mark helped pioneer craft brewing in Virginia, earning a reputation for producing award-winning beers, and our brewing team's recent success has carried on this tradition," said Robbie. "Thanks in part to his leadership, the Charlottesville area has become one of the hottest regions in Virginia for craft brewing. Even with the arrival of some of the largest craft breweries in the country to the Commonwealth, our homegrown Virginia craft community will continue to grow and thrive."
A native of Asheville, North Carolina, Robbie graduated from Hampden-Sydney College with a degree in chemistry. Following graduation, he worked for Wachovia/Wells Fargo Bank in Asheville and Charlotte. He started homebrewing and with his competitive spirit, nurtured as a four-year varsity soccer player at Hampden-Sydney, his interest in chemistry and beer led him to pursue a career in the craft brewing industry.
"Growing up in Asheville, I was inspired by one of the earliest craft-centric areas in the Southeast," said Robbie. "However, my parents' influence on my approach to food and beverage is the true foundation of my career path."
The O'Cain family spent many evenings cooking at home, introducing their sons to international cuisine at a young age. Clearly, there was something in the water at the O'Cain household as Robbie's brother, Patrick, recently opened Gàn Shān Station, an East-Asian restaurant in Asheville.
"Our stories mirror each other," said Robbie. "We both knew we wanted to be able to share our passion with people–his for food and mine for beer."
On his return from studying in Germany, Robbie was hired at Starr Hill as a brewer and was quickly promoted to Quality Assurance Manager within a year. With his enthusiasm for craft beer and hands-on leadership, Robbie drove Starr Hill's brewing team to constantly enhance overall beer excellence.
"It is a privilege to work with some of the best brewers and production employees in the craft business," said Robbie. "I am proud to be a part of a dedicated leadership team working alongside Peter Barry, Manager of Maintenance, and Jason Porter, Quality Assurance Manager. The strides Starr Hill has made in recent years with quality, creativity, consistency and efficiency have been due to the tireless efforts of our entire team."
Whether brewing a new recipe or fly-fishing in the Shenandoah, Robbie throws himself completely into learning and excelling at any task at hand. His intense curiosity and drive for success are the perfect ingredients for a Master Brewer.
 "I have no doubt Robbie will lead Starr Hill's brewing team to continue producing creative, world-class beers," says McNelis. "Starr Hill has already brewed some outstanding beers, but our best is yet to come. I have been in this industry for a long time and am confident Robbie is one of the rising stars in the beer business today. He is someone we will hear from for many years."
Starr Hill Brewery is a privately owned, regional craft brewery founded in 1999 in Charlottesville, Virginia. Among the most award-winning craft breweries on the East Coast, Starr Hill has won 21 Great American Beer Festival, World Beer Cup and Great British Beer Festival medals. Starr Hill beer is distributed throughout the Mid-Atlantic and Southeastern regions. Please visit www.StarrHill.com for more information.