Victory Brewing – Dark Intrigue Release Info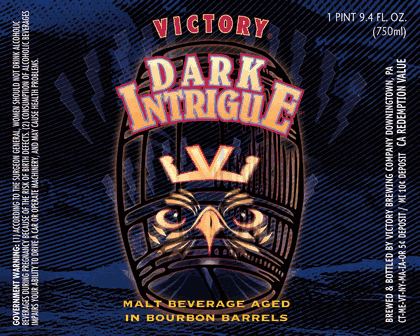 Victory Brewing announced details on the Dark Intrigue release for Novemeber 23.  Of importance is the announcement that it will be going away forever.  We aren't sure if this is a marketing ploy or a legit operations issue, but none the less, here is how you can get your hands on the tasty barrel aged Storm King, known as Dark Intrigue.
It's time.
Our Storm King Stout spent the summer in bourbon barrels from Jim Beam and Heaven Hill Distilleries, and has finally emerged as Dark Intrigue. (It's like Clark Kent going into a phone booth and coming out as Superman, only more delicious and less crime-fighty.)
Dark Intrigue will be released here at the Downingtown retail location on Nov. 23, a day we are calling Dark Wednesday. Not only will you be able to purchase the dark and intriguing boozy beverage, but you'll be part of Victory history. While this is our second release of Dark Intrigue we are also planning it to be our last. Get it now before it goes away forever.
Here's what you need to know about Dark Wednesday:
• Dark Intrigue will be available by the bottle and by the case from the retail shop at our Downingtown brewery and brewpub.
• It will go on sale when our retail shop opens at 11:30 a.m. You are welcome to begin lining up earlier than that, and we anticipate that Dark Intrigue fans will start arriving around 9 a.m.
• Each person will be limited to one case of Dark Intrigue, no exceptions.
• The cost will be $15 per bottle, $180 per case. (There are 12 bottles per case.)
• We know you're excited to drink your newly purchased Dark Intrigue, and we're excited to have you try it, but under no circumstances can you open a bottle of Dark Intrigue in the parking lot. Pennsylvania has very strict open container laws, and drinking beer in our parking lot is illegal. If you open it in the parking lot, it will be confiscated. We don't want to do that, but we have to follow the law of the land. So please, wait until you get home to open it so we can all avoid any issues.
• Like all beer purchased at our retail shop, it is not permitted to be opened in the restaurant. We welcome and encourage you to stay for lunch after you purchase your Dark Intrigue, but you will not be able to drink the Dark Intrigue that you bought in retail with your lunch. We will have limited quantities of Dark Intrigue available on draft for you to enjoy with your meal. (Dark Intrigue is not available for growler fills.)
• In addition to the beer, you will also be able to buy the bourbon barrels where Dark Intrigue was aged. The barrels will cost $40 each, cash only, and you can buy as many barrels as you can fit in your vehicle. You cannot pay for the barrels at the same time you pay for your Dark Intrigue. We will have a separate station for barrel purchases set up outside. If you want to purchase a barrel on Dark Wednesday, please e-mail[email protected] to reserve yours. You will have to pay and pick up the barrel on Dark Wednesday.
Follow this link for the original blog post from Victory, as well as some video clips on the beer.
http://victorybeer.com/blog/dark-intrigue-release/