Upper Hand Brewery Wins at 2019 World Beer Expo
(ESCANABA, MI) – Upper Hand Brewery is proud to announce that two of its beers were awarded medals at the 2019 World Expo of Beer.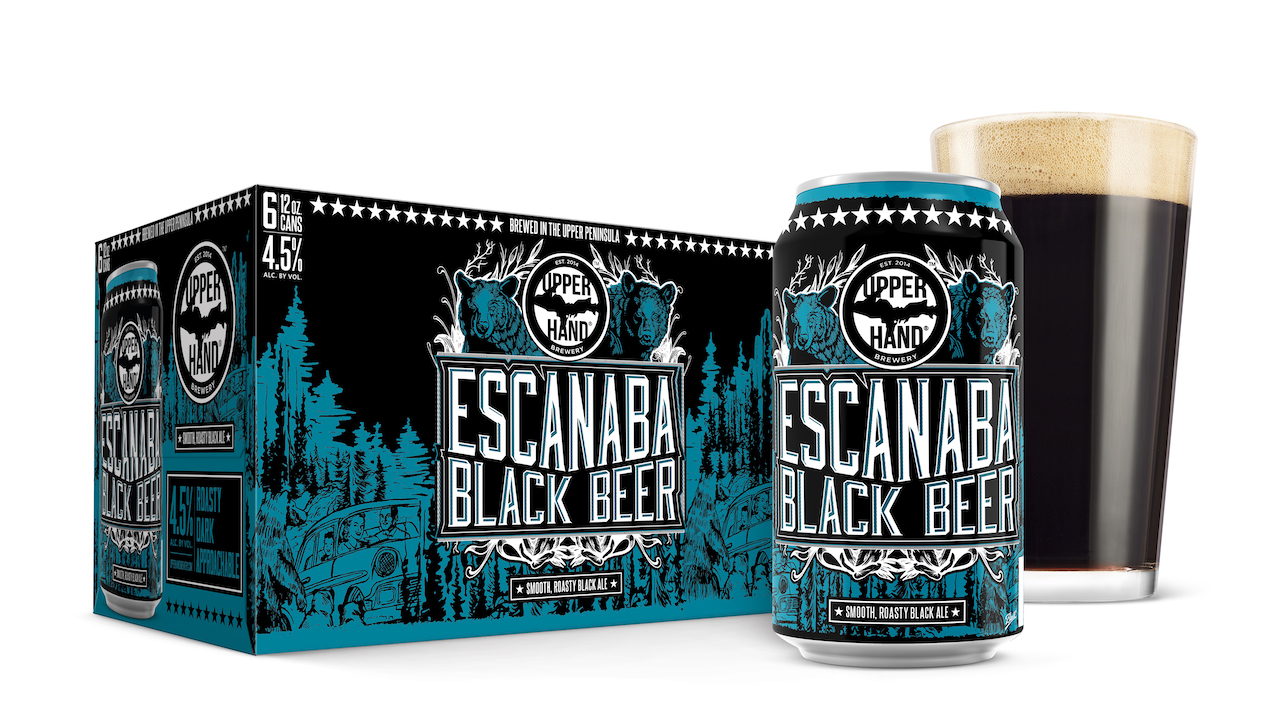 Escanaba Black Beer was awarded a gold medal in the Dark European category, while Barrel-Aged Old Fighter took home bronze medals in both the Strong American and Wood-Aged categories.
"Escanaba Black Beer is one of the three original Upper Hand recipes, and it has remained unchanged in our year-round portfolio since the day we opened," said Upper Hand Brewery President and Founder, Larry Bell. "It is very gratifying to see it win top honors in its class."
"I'm also delighted that the barrel-aged version of our Old Fighter was recognized with medals in two categories," he added. "Like a good bottle of wine, we brewed this beer specifically to age gracefully, so it is incredibly validating to see it honored after over three years."
There were 803 entries in this year's World Expo of Beer, which is held annually in Frankenmuth, MI. It is Michigan's largest professional beer competition. Upper Hand Brewery is the only U.P.-based brewery to receive awards at the 2019 event.
Escanaba Black Beer is available year-round in cans and draft.  Barrel-Aged Old Fighter is a small-batch, draft-only brand available at select bars and restaurants throughout the Upper Peninsula.
ABOUT ESCANABA BLACK BEER:
Escanaba Black Beer is at home around both summer fire pits and winter fireplaces. This dark, delicious, malt-forward black ale has a moderate roastiness that is balanced with a silky-smooth, mildly bitter finish (4.5% alcohol by volume – available on draft and in 12oz cans).
ABOUT BARREL-AGED OLD FIGHTER BARLEY WINE-STYLE ALE:
Barrel-Aged Old Fighter is a bold, brash take on the American Barley Wine style. Barrel-aged for fifteen months in blend of bourbon, rye, and port wine barrels, Old Fighter displays caramel, rich malt, and oak character throughout (12.7% alcohol by volume – available on draft).
ABOUT UPPER HAND BREWERY:
Upper Hand Brewery is a crew of hikers, campers, dog-walkers, anglers, hunters, bikers, and folks that just want to get out there. We believe that life's mission is to do what you love, where you love, with the people you love. For us, that means brewing the best beer we can, in the best place on Earth: Michigan's Upper Peninsula.
We put a lot of thought into brewing beer that reflects what we love about where we live. We have the unique opportunity to try and capture an experience—a sense of place—in each and every beer, and we take it seriously. That's not to say we don't have a lot of fun. The U.P. is full of adventures and we love making beer that makes those adventures even better.
A little more about us: our founder—Larry Bell of Bell's Brewery—had always dreamed of opening a brewery in the Upper Peninsula. Little clues of those dreams can be found in many of the classic Bell's brands, which pay tribute to the U.P. in their names and label artwork. His dream became a reality when we broke ground on our 20-barrel brewhouse in 2013, and we haven't looked back since.
Find Upper Hand Brewery online at www.upperhandbrewery.com, as well as Facebook, Instagram, and Twitter.