Upland Brewing Latitude Adjustment Slated for November Release
(BLOOMINGTON, IN) —Upland Brewing Co. announces the release of a new seasonal beer, Latitude Adjustment—a tropical pale ale with pineapple and coconut. This beer started as a Side Trail Series beer, formerly known as Beard of Paradise, and is back by popular demand. Latitude Adjustment will be available in early November in six-packs and on draught.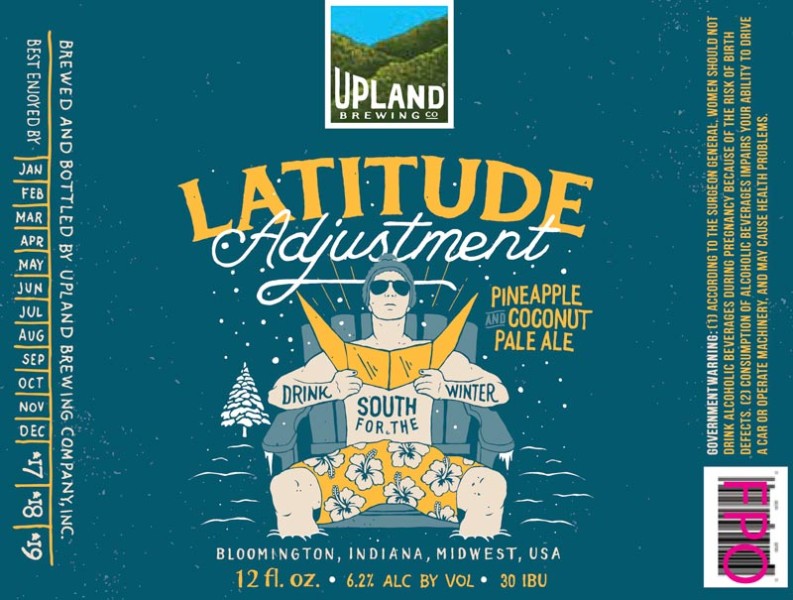 Upland's Side Trail beers are fun, experimental beers that may only be brewed once, but Latitude Adjustment quickly became a favorite that defies season. "Latitude Adjustment is intended to be a "winter escape" beer, a kind of brew that you might typically see as a summer seasonal, intended to give the drinker a psychological relief from the chill of winter by providing the impression of warmer climes," says Innovation Lead Matt Wisley.
"We've brewed a few small batches of this beer over the last two years and we are really excited to finally release it on a larger scale," says VP of Brewing Operations Pete Batule.
"Latitude Adjustment is escapism in a bottle. Those looking for a change from the malty winter brews will enjoy this complex and refreshing pale ale," says Wisely.
Beer Description: The citrus tones in the Mosaic west coast hops deliver a bold tropical flavor with background contributions of pineapple and coconut. There is a slight sweetness from the crystal malt that is well-balanced with the acidity of the pineapple. Coconut is introduced in the brewhouse, as well as during aging, and pineapple is added toward the end of fermentation. The beer pours golden with a clean, crisp finish.
ABV: 6.2% IBU: 30
About the Brewery: Located in Bloomington, Indiana, Upland's rich history dates all the way back to 1998. Taking traditional recipes and making them a bit more awesome, Upland Brewing Co. came up with their own recipes rooted with inspiration from good beer and good friends, providing a fresh local option to their communities. The name Upland comes from the term geologists gave to this area of Southern Indiana land which was never overrun by the glaciers that flattened much of Indiana's landscape. The adversity of the land bred independent thinkers who had strong wills, a connection to the land, and a wry sense of humor about life. Upland's approach to brewing beer honors the spirit of these people and this place.