Dogfish Head Honored for Exceptional Commitment to the Arts
(Milton, DE) – On October 5, 2016, Dogfish Head Craft Brewery accepted the 2016 Business Committee for the Arts (BCA) 10 award honoring their exceptional commitment and dedication to the arts through grants, local partnerships, volunteer programs, matching gifts, sponsorships, and board membership. Mark Carter, ambassador of Beer & Benevolence, the philanthropic branch of Dogfish Head, accepted the national award at the celebratory event held at The Central Park Boathouse in New York City.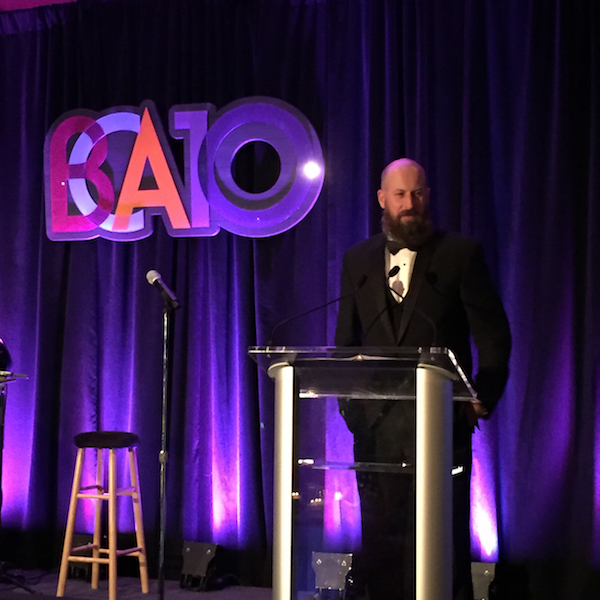 Each year, Americans for the Arts, through its BCA program, recognizes 10 businesses of all sizes for their exceptional contribution and involvement with the arts that enriches the workplace, education and the community. These companies set the standard for excellence and serve as role models and ambassadors for others to follow. "We are grateful to honor these businesses for their exceptional involvement in ensuring that the arts thrive in their communities," said Robert L. Lynch, president and CEO of Americans for the Arts. "These businesses provide the arts with significant financial and in-kind support, and they incorporate meaningful arts-related programs into their employee, customer, and community relations activities. They enrich the lives of millions of Americans and truly set a standard for other businesses to follow."
Dogfish Head benevolently collaborates with nonprofit organizations to foster community, nourish artistic advancement and cultivate environmental stewardship. "Art is an essential component to good living," says Dogfish Head founder and president Sam Calagione. "And we're proud to support the people who are making our corner of the planet a better place to live and work."
###
Dogfish Head has proudly been focused on brewing beers with culinary ingredients outside the Reinheitsgebot since the day it opened as the smallest American brewery 21 years ago. Today Dogfish Head has grown into a top-20 craft brewery and has won numerous awards throughout the years including Wine Enthusiast's 2015 Brewery of the Year. Today Dogfish Head is a 250+ person company based in Delaware with a brewpub/distillery in Rehoboth Beach, an innovative seafood restaurant in Rehoboth Beach, a beer-themed inn on the harbor in Lewes and a production brewery/distillery in Milton. Dogfish Head currently sells beer in 31 states.
Americans for the Arts is the leading nonprofit organization for advancing the arts and arts education in America. With offices in Washington, D.C. and New York City, it has a record of more than 50 years of service. Americans for the Arts is dedicated to representing and serving local communities and creating opportunities for every American to participate in and appreciate all forms of the arts. Additional information is available at AmericansForTheArts.org.
Founded in 1967 by David Rockefeller, the Business Committee for the Arts (BCA), a division of Americans for the Arts, encourages, inspires, and stimulates businesses to support the arts in the workplace, in education, and in the community. The Business Committee for the Arts merged with Americans for the Arts' in 2008.