Upland Brewing Celebrates Record Store Day With Vinyl Tap Rye Pale Ale
(Bloomington,IN) – Record Store Day, held every April, is a way of celebrating our local community. Beginning in 2013, Upland decided to embrace this concept by introducing a new seasonal beer inspired by local musicians to help support our local record store owners. This beer also comes with a dose of good Karma, because 10% of all profits from Vinyl Tap will go toward Girls Rock! Indianapolis. This non-profit organization is dedicated to building positive self-esteem in girls and encouraging creative expression through music.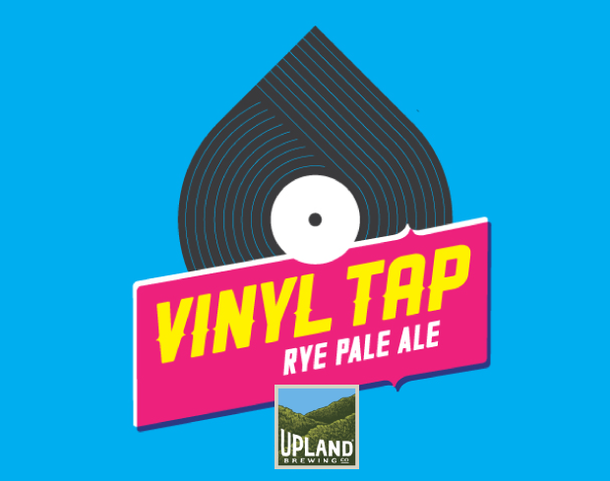 Vinyl Tap is a classically composed American Pale Ale, with Pale and Munich malts providing the bass with notes of biscuit, honey, and spicy rye malt filling in the harmony. Topped off with the lyrical melody of citrus and pine from a blend of four American hop varieties, Vinyl Tap is music to your mouth.
Upland Brewing Co. announced today that Vinyl Tap Rye Pale Ale will be available on draught Friday, April 10th at all Upland locations and select craft beer bars and restaurants.
Beer Description:
This unique brew is built on the foundation of a classic American Pale ale. Pale and Munich malts are complimented with the subtle complexity of biscuit and honey flavors along with the delicate spice of malted rye. Aromatic additions of citrus and pine are layered throughout from a blend of four American hop varities.
ABV: 5.5% IBU: 45
About the Brewery: Located in Bloomington, Indiana, Upland's rich history dates all the way back to 1998. Taking traditional recipes and making them a bit more awesome, Upland Brewing Co. came up with their own recipes rooted with inspiration from good beer and good friends, providing a fresh local option to their communities. The name Upland comes from the term geologists gave to this area of Southern Indiana land which was never overrun by the glaciers that flattened much of Indiana's landscape. The adversity of the land bred independent thinkers who had strong wills, a connection to the land, and a wry sense of humor about life. Upland's approach to brewing beer honors the spirit of these people and this place.
Other Upland Beers: VinoSynth Red (Gold and Best in Show 2014 Indiana State Fair, Malefactor (Gold Indiana State Fair), Sour Reserve (Silver Indiana State Fair 2014), Vinyl Tap (Silver Indiana State Fair 2014), Champagne Velvet (Silver Indiana State Fair 2014), Oktoberfest (Bronze Indiana State Fair 2014), Helios Pale Ale (Gold and Professional Best of Show 2013 Indiana State Fair, Gold 2011 BTI World Beer Championships), Upland Wheat (Gold 2011, 2010 Bronze 2006 Indiana State Fair, Bronze 2009 BTI World Beer Championships, Gold 2002 Great American Beer Fest), Schwarz (Gold 2013, 2012 Indiana State Fair, 2012 Best of the Midwest Dark Lager United States Beer Tasting Championship, Silver 2010 Indiana State Fair), Teddy Bear Kisses (Gold 2011, 2010 BTI World Beer Championships).