Cigar City Brewing is Shaving Beards to Raise Money for Pediatric Cancer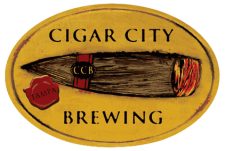 Bartenders, employees and friends of Cigar City Brewing, Tangent Brewing and Barley Mow Brewing Company will shave their beards (and some heads) as part of the 6th annual Veredus|HAYS Cut for a Cure Charity Challenge presented by Carrabba's Italian Grill, a fund raising campaign where more than 200 men, women, and children are going bald to raise funds and awareness for the Pediatric Cancer Foundation and select nonprofit organizations. Several head shavings will take place throughout the campaign, which ends in May.
To encourage fans to get involved and donate, the brewery that raises the most during the duration of Cut for a Cure will receive the coveted "Golden Clippers" award, which will be featured prominently in the winning brewery's location.
WHEN: Thursday, April 9, at 6:30 pm
WHERE: Cigar City Brewing, 3924 W. Spruce Street, Tampa, FL 33607
HOW: The Cigar City Brewing beard shaving event is open to the public. To show support for a brewery or participant, the public is encouraged to make a donation at www.pcfcutforacure.org or by calling 813-269-0955. Fundraising continues through May 15, 2014. Cigar City Brewing will also donate part of their proceeds from the night of April 9, to the Pediatric Cancer Foundation.
BENEFITING: Pediatric Cancer Foundation
SPONSORS: Veredus|HAYS Recruiting experts worldwide, Carrabba's Italian Grill, Sport Clips Haircuts, Tampa Bay Lightning, Tampa Bay Rays, Tampa Bay Buccaneers, Moffitt Cancer Center, USAmeribank
Cigar City Brewing Vice President Justin Clark said, "The Cut for a Cure Charity Challenge is a fantastic way to raise money for a very important cause. The Pediatric Cancer Foundation has a wonderful reputation and is a top notch organization. We thought this would be a great way to engage our employees and customers with a program that can help so many people. There's some great beards on our staff and it will be bittersweet to see them go. I'll be shaving my head though since I wasn't blessed in the beard department!"
Pediatric Cancer Foundation executive director Nancy Crane said, "We are so excited to have Cigar City Brewing participate in Cut for A Cure this year! We know many of these men and their beards are a staple in the Tampa brewery scene and we're honored they are shaving them in the name of pediatric cancer research."
CIGAR CITY BREWING
At Cigar City Brewing we make beer we like to drink and toast those who choose to drink with us. Behind all our beer is the philosophy that quality is achieved by giving first rate ingredients to first rate people in a space where they are free to pursue their passion. We acknowledge that what we do at Cigar City Brewing isn't for everyone, but we welcome all.
PEDIATRIC CANCER FOUNDATION
With its national headquarters in Tampa, the Pediatric Cancer Foundation (PCF) is a nonprofit organization dedicated to funding research to eliminate childhood cancer. Its focus is to find less toxic, more targeted therapies by partnering with leading hospitals nationwide. For more information on PCF, go to www.fastercure.org. For more information on the Cut for a Cure event, go to www.pcfcutforacure.org.
YOU CAN DONATE TO CIGAR CITY BREWING'S PERSONAL CUT FOR A CURE PAGE BY GOING TO: tinyurl.com/ccbcut4acure